Top Ten Tuesday is an original feature/weekly meme created at The Broke and the Bookish.
Shockingly enough, I actually decided to talk about the good things today. I get to talk about those wonderful surprises where I wasn't fully convinced about a book before I started reading it.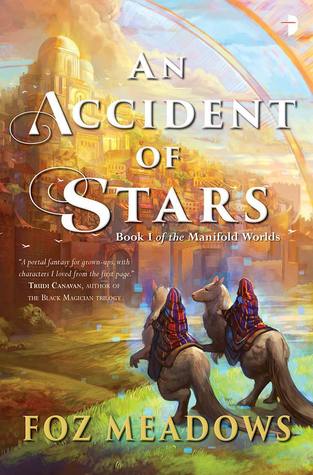 An Accident of Stars by Foz Meadows
When Saffron Coulter stumbles through a hole in reality, she finds herself trapped in Kena, a magical realm on the brink of civil war.
There, her fate becomes intertwined with that of three very different women: Zech, the fast-thinking acolyte of a cunning, powerful exile; Viya, the spoiled, runaway consort of the empire-building ruler, Vex Leoden; and Gwen, an Earth-born worldwalker whose greatest regret is putting Leoden on the throne. But Leoden has allies, too, chief among them the Vex'Mara Kadeja, a dangerous ex-priestess who shares his dreams of conquest.
Pursued by Leoden and aided by the Shavaktiin, a secretive order of storytellers and mystics, the rebels flee to Veksh, a neighboring matriarchy ruled by the fearsome Council of Queens. Saffron is out of her world and out of her depth, but the further she travels, the more she finds herself bound to her friends with ties of blood and magic.
Can one girl – an accidental worldwalker – really be the key to saving Kena? Or will she just die trying?
Notes: It seems silly now, after reading this book, how uncertain I was about it. I actually only decided to read it because I heard that there was a character in it that fell on the asexual spectrum. (She's aromantic, to be exact.) And because of that gorgeous cover. But, let me tell you, this book is amazing, spectacular and will almost definitely be one of the best books I read this year. (Unless the sequel is even better!)
The Wizard Hunters by Martha Wells
Once a fertile and prosperous land, Ile-Rien is under attack by the Gardier, a mysterious army whose storm-black airships appear from nowhere to strike without warning. Every weapon in the arsenal of Ile-Rien's revered wizards has proven useless.
And now the last hope of a magical realm under siege rests within a child's plaything.
Notes: That is the only synopsis I could ever find for the book. I bought it mostly, I think, because of the title. (Because I want pretty much every book that has 'Wizard' in the title.) I had it for ages, nearly getting rid of it more than once, but every time I did, I looked at the first page and out main character searching for a way to kill herself and come up with a ruling of natural causes, and knew I had to read it. I wound up loving the book, having a blast with the entire series and now, four books later, Wells is one of my favorite authors!
A Wicked Thing by Rhiannon Thomas
One hundred years after falling asleep, Princess Aurora wakes up to the kiss of a handsome prince and a broken kingdom that has been dreaming of her return. All the books say that she should be living happily ever after. But as Aurora understands all too well, the truth is nothing like the fairy tale.
Her family is long dead. Her "true love" is a kind stranger. And her whole life has been planned out by political foes while she slept.
As Aurora struggles to make sense of her new world, she begins to fear that the curse has left its mark on her, a fiery and dangerous thing that might be as wicked as the witch who once ensnared her. With her wedding day drawing near, Aurora must make the ultimate decision on how to save her kingdom: marry the prince or run.
Notes: I actually pre-ordered this book and am so glad I did - because all the disdain and hatred I heard for this book might have convinced me not to buy it. And that would have been a shame because this is one of my favorite books and the thought I would have missed out on it because so many other people dislike it is just sad.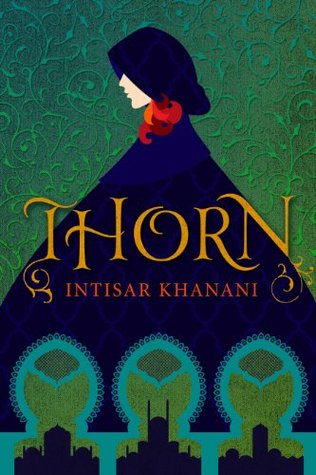 Thorn by Intisar Khanani
For Princess Alyrra, choice is a luxury she's never had ... until she's betrayed.
Princess Alyrra has never enjoyed the security or power of her rank. Between her family's cruelty and the court's contempt, she has spent her life in the shadows. Forced to marry a powerful foreign prince, Alyrra embarks on a journey to meet her betrothed with little hope for a better future.
But powerful men have powerful enemies--and now, so does Alyrra. Betrayed during a magical attack, her identity is switched with another woman's, giving Alyrra the first choice she's ever had: to start a new life for herself or fight for a prince she's never met. But Alyrra soon finds that Prince Kestrin is not at all what she expected. While walking away will cost Kestrin his life, returning to the court may cost Alyrra her own. As Alyrra is coming to realize, sometime the hardest choice means learning to trust herself.
Notes:
This can be totally blamed on my own preconceptions. It doesn't sound like my kind of book - even while reading it I was aware that it's definitely not the sort of book I usually read. But, it was really awesome and just a wonderful breath of fresh air as something different.
The Winner's Curse by Marie Rutkoski
Winning what you want may cost you everything you love...
As a general's daughter in a vast empire that revels in war and enslaves those it conquers, seventeen-year-old Kestrel has two choices: she can join the military or get married. But Kestrel has other intentions.
One day, she is startled to find a kindred spirit in a young slave up for auction. Arin's eyes seem to defy everything and everyone. Following her instinct, Kestrel buys him—with unexpected consequences. It's not long before she has to hide her growing love for Arin.
But he, too, has a secret, and Kestrel quickly learns that the price she paid for a fellow human is much higher than she ever could have imagined.
Notes:
Often - unless I can unequivocally say that I don't want anything to do with a book - when it comes to super popular books, I find myself reading them just to see what the fuss is all about. Usually, it turns out that I don't like the book, but sometimes - like this one - I get pleasantly surprised.
Stitching Snow by R.C. Lewis
Princess Snow is missing.
Her home planet is filled with violence and corruption at the hands of King Matthias and his wife as they attempt to punish her captors. The king will stop at nothing to get his beloved daughter back—but that's assuming she wants to return at all.
Essie has grown used to being cold. Temperatures on the planet Thanda are always sub-zero, and she fills her days with coding and repairs for the seven loyal drones that run the local mines.
When a mysterious young man named Dane crash-lands near her home, Essie agrees to help the pilot repair his ship. But soon she realizes that Dane's arrival was far from accidental, and she's pulled into the heart of a war she's risked everything to avoid. With the galaxy's future—and her own—in jeopardy, Essie must choose who to trust in a fiery fight for survival.

Notes: Honestly, I thought I'd probably enjoy this book - but I never expected to love it as much as I do. For me, this is pretty much the perfect Snow White retelling and I adore everything about it. (It wins points from me over Winter just because of the 'dwarves'.)
V is for Villain by Peter Moore
Brad Baron is used to looking lame compared to his older brother, Blake. Though Brad's basically a genius, Blake is a superhero in the elite Justice Force. And Brad doesn't measure up at his high school, either, where powers like super-strength and flying are the norm. So when Brad makes friends who are more into political action than weight lifting, he's happy to join a new crew-especially since it means spending more time with Layla, a girl who may or may not have a totally illegal, totally secret super-power. And with her help, Brad begins to hone a dangerous new power of his own.
But when they're pulled into a web of nefarious criminals, high-stakes battles, and startling family secrets, Brad must choose which side he's on. And once he does, there's no turning back.
Notes:
I am on a near constant hunt for superhero/supervillain stories. Unfortunately most of the time the books are very disappointing. But this book was spectacular and fun and just all around awesome!
Earth Girl by Janet Edwards
Jarra is stuck on Earth while the rest of humanity portals around the universe. But can she prove to the norms that she's more than just an Earth Girl?
2788. Only the handicapped live on Earth. While everyone else portals between worlds, 18-year-old Jarra is among the one in a thousand people born with an immune system that cannot survive on other planets. Sent to Earth at birth to save her life, she has been abandoned by her parents. She can't travel to other worlds, but she can watch their vids, and she knows all the jokes they make. She's an 'ape', a 'throwback', but this is one ape girl who won't give in.
Jarra invents a fake background for herself – as a normal child of Military parents – and joins a class of norms that is on Earth to excavate the ruins of the old cities. When an ancient skyscraper collapses, burying another research team, Jarra's role in their rescue puts her in the spotlight. No hiding at back of class now. To make life more complicated, she finds herself falling in love with one of her classmates – a norm from another planet. Somehow, she has to keep the deception going.
A freak solar storm strikes the atmosphere, and the class is ordered to portal off-world for safety – no problem for a real child of military parents, but fatal for Jarra. The storm is so bad that the crews of the orbiting solar arrays have to escape to planet below: the first landing from space in 600 years. And one is on collision course with their shelter.
Notes:
There wasn't any one big reason I was so leery of this book, but a lot of small ones. The first person POV and the title (Earth Girl, really?) were probably the biggest ones. But this book turned out to be awesome and it's one of my sci-fi faves.
Ticker by Lisa Mantchev
A girl with a clockwork heart must make every second count.
When Penny Farthing nearly dies, brilliant surgeon Calvin Warwick manages to implant a brass "Ticker" in her chest, transforming her into the first of the Augmented. But soon it's discovered that Warwick killed dozens of people as he strove to perfect another improved Ticker for Penny, and he's put on trial for mass murder.
On the last day of Warwick's trial, the Farthings' factory is bombed, Penny's parents disappear, and Penny and her brother, Nic, receive a ransom note demanding all of their Augmentation research if they want to see their parents again. Is someone trying to destroy the Farthings...or is the motive more sinister?
Desperate to reunite their family and rescue their research, Penny and her brother recruit fiery baker Violet Nesselrode, gentleman-about-town Sebastian Stirling, and Marcus Kingsley, a young army general who has his own reasons for wanting to lift the veil between this world and the next. Wagers are placed, friends are lost, romance stages an ambush, and time is running out for the girl with the clockwork heart.
Notes: I was mostly unsure about this book because it's not very well liked by Goodreads (eh, what do they know) so, back when I still based part of my decision on ratings, I almost gave it a pass. But I managed to borrow it and am so glad I did because this book is awesome! I love the story and it covers what is probably my second favorite steampunk trope - clockwork body repair/replacement. (Specifically a clockwork heart - and only after airships!)
The Friday Society by Adrienne Kress
An action-packed tale of gowns, guys, guns–and the heroines who use them all
Set in turn of the century London, The Friday Society follows the stories of three very intelligent and talented young women, all of whom are assistants to powerful men: Cora, lab assistant; Michiko, Japanese fight assistant; and Nellie, magician's assistant. The three young women's lives become inexorably intertwined after a chance meeting at a ball that ends with the discovery of a murdered mystery man.
It's up to these three, in their own charming but bold way, to solve the murder–and the crimes they believe may be connected to it–without calling too much attention to themselves.
Set in the past but with a modern irreverent flare, this Steampunk whodunit introduces three unforgettable and very ladylike–well, relatively ladylike–heroines poised for more dangerous adventures.
Notes: Another book with a low Goodreads rating. I mostly just wasn't sure about this book because I wasn't sure what I would be getting. I needn't have worried though, because these girls are awesome! And it's kind of a steampunk, YA Charlie's Angels. Sort of.

And there we have ten of my books that I liked more than I thought I would. That was actually kind of fun to put together. Have you read any of these books? Can I work on convincing you to? Because these books are awesome and all need more love! What books did you like more than expected?