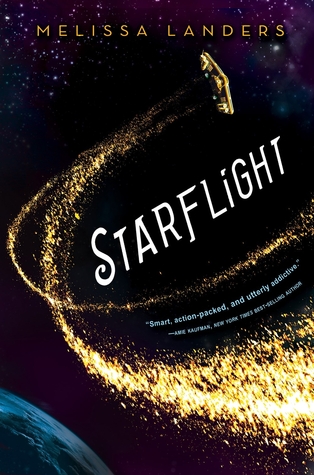 Starflight by Melissa Landers
Series: Starflight #1
Genre: Sci-Fi
Add on Goodreads
Life in the outer realm is a lawless, dirty, hard existence, and Solara Brooks is hungry for it. Just out of the orphanage, she needs a fresh start in a place where nobody cares about the engine grease beneath her fingernails or the felony tattoos across her knuckles. She's so desperate to reach the realm that she's willing to indenture herself to Doran Spaulding, the rich and popular quarterback who made her life miserable all through high school, in exchange for passage aboard the spaceliner Zenith.
When a twist of fate lands them instead on the Banshee, a vessel of dubious repute, Doran learns he's been framed on Earth for conspiracy. As he pursues a set of mysterious coordinates rumored to hold the key to clearing his name, he and Solara must get past their enmity to work together and evade those out for their arrest. Life on the Banshee may be tumultuous, but as Solara and Doran are forced to question everything they once believed about their world—and each other—the ship becomes home, and the eccentric crew family. But what Solara and Doran discover on the mysterious Planet X has the power to not only alter their lives, but the existence of everyone in the universe...

"Kiss me, Doran. I burn for you, hotter than a thousand hells."
"I think there's an ointment for that."
"Desire like this can't be tamed by medicine."
This book is so much fun. I'll be honest, it's not what I would call original. There's a lot of other books - and even one TV show - that it reminds me of. (Stitching Snow, The Long Way to a Small Angry Planet, the entire series of Tales of the Kety Jay and Firefly, to be exact.) But it is fun and has a couple of the most likable YA leads I've come across in quite a while.
At first, I was a little concerned about this book because, well, the first thing I learnt about it was that Solara sells herself into indentured servitude to the main guy. The guy who will be her love interest. To me, that sounded like the bad start to every abusive, possessive romance I've ever come across.
But, much to my happiness, I was wrong. We don't spend much time with a power imbalance in that direction - truthfully, not much of a power imbalance at all. And Solara is a tough girl, even if she sometimes doesn't want to be. Circumstances made her what she is and she takes care of herself and talks back to anyone that talks down to her.
Doran is, honestly, a total sweetheart. Oh, he's got a mouth on him and says some cruel things to Solara (and she gives as good as she gets) but - to avoid spoilers, let's just say that we have a chance to see what he'd be like with all this walls stripped away, and he is surprisingly insecure and vulnerable.
The romance between them is very slow moving. There's no instalove. There's not even instalike as they start off as enemies and it's a slow progression to friends and then an even slower progression to more than friends. (Which I loved!)
The supporting characters are wonderful, too. I loved the quirky crew of the Banshee - after all, spaceships need quirky crews. There's a very strong found family/made family feeling amongst them and I love that. It's probably one of my favorite things when people that don't really belong/fit anywhere else find a family of each other. A family of misfits.
The plot is interesting, but the characters are where this story's at. There're these tendrils that tie things together, but for a while, there seems to be no rhyme or reason to some of the stuff that happens. It's all there for a reason though - which in hindsight makes this book seem tightly plotted.
And there is always something happening. Dealing with pirates or broken machinery - or just the crew. (And the totally cute ship mascot, Acorn.)
Solara still didn't know this crew's secrets or how their paths had crossed, and yet these strangers had done more to protect her today than her own parents had done in eighteen years. In her opinion, that was definitely something to be proud of. Renny was wrong when he'd said this was no life.
In that moment, there was no place she'd rather be.