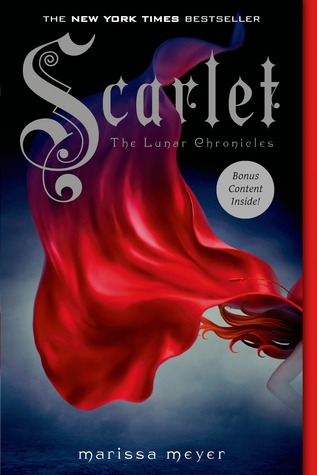 Scarlet by Marissa Meyer
Series:
The Lunar Chronicles #2
Published by Square Fish
Pages:
452
Genre:
Sci-Fi/Romance (YA)
Add on Goodreads
My Cinder Review
Scarlet Benoit's Grandmother is missing. While the police claim she has either ran away or killed herself, Scarlet knows better. She knows someone kidnapped her Grandmother. Determined to figure out who, she sets off to rescue her - and gets help from the street fighter Wolf. However, not everything is as it seems, and Scarlet discovers an unexpected connection to the Commonwealth's most wanted fugitive, Linh Cinder.
"We're having another moment, aren't we?"
"If by moment, you mean me not wanting to strangle you for the first time since we met, then I guess we are."

Honestly, I wasn't even going to read this book. Cinder didn't really work for me and usually when I don't really like the first book in a series, I tend to not waste my time with any others. Then, after several unpleasant books that I was sure I would like, I decided to give Scarlet a shot.
Boy, am I glad I did.
Everything just seemed to come together so much better in this book than the first one. From the first paragraph, I was curious about this book - about the new setting (France) and about the characters and the plotline. I loved how this book threw your right into the story, which is something I never felt happen with Cinder.
The characters are great. I love and adore Scarlet. She's a wonderfully strong young lady and just all-around awesome. Wolf is no doubt interesting and a bit confusing as sometimes he comes across as sweet and shy and other times he's arrogant and...not sweet. Their romance it actually quite nice, and I can see the appeal they have to each other.
The other new character is Thorne - who, if I'm not mistaken, plays a larger role in the next book - and I'm already quite taken by him. His sense of humor is just great and he's a blast to read about. We also check in several times with some of the characters from Cinder - like the titular girl herself, who seems a bit more likable to me this time around, and Prince Kai and the wonderful Iko.
All these characters stories are combining in a way that is very, very interesting and I'm getting quite excited to see how things will play out in the last two books to the series. I must admit, I really like the way the farytales are weaving together - giving a well thought out, overarching plotline.
However, not all is good. The whole 'cyborg hatred' hasn't been explained, though it was seldom mentioned in this book. Really, unless there's some big, amazing reveal as to why humans in general hate cyborgs, this is something that should have been explained in the first half of the first book. The good news is, most individuals that we encounter are not so racist, so I could almost forget that there is even cyborg hatred.