Top Ten Tuesday is an original feature/weekly meme created at The Broke and the Bookish. This feature was created because we are particularly fond of lists here at The Broke and the Bookish. We'd love to share our lists with other bookish folks and would LOVE to see your top ten lists!
I'm really particular when it comes to 'beach' reads. Okay, it's not like I've ever
actually
been to the beach - but to me a 'beach bag read' is usually lighter than any other books. It's not something that really makes you think, it doesn't shake your ideas. It's just fun, fast reads. Things that can be devoured like popsicles.
Top Ten Books That Should Be In Your Beach Bag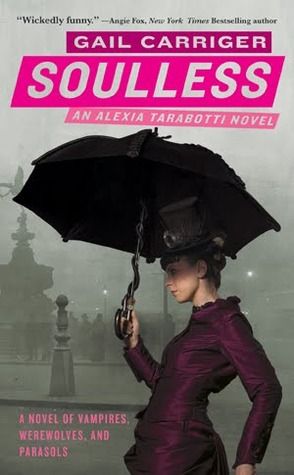 What better time to read about the wet, cloudy skies of London than when you're sitting on a warm, sunny beach? This book is heavy on romance, humor and adventure, which to me makes it the perfect lazy day read.
Death on the Nile
by Agatha Christie
This is one of my favorite Christie books. With the sun and history of Egypt, and a murder that was almost perfect, a beach is the perfect place to read this book.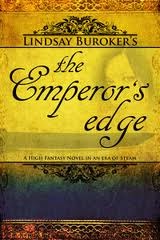 This is certainly a fun, fast paced fantasy with a likable cast of characters and a pinch of the absurd. While it is light on the romance, the high adventure is perfect for a beach day.
Retribution Falls
by Chris Wooding
This is a high energy Firefly-esque, steampunk story. A book that owes most of its life to the old-style adventure stories of Stevenson and Verne, this would be a great beach bag read.
Crocodile on the Sandbank
by Elizabeth Peters
While I do think any of her work would be excellent beach reads - as well as most of her work under the alternate pen name Barbara Michaels - I went with the first book in my favorite series of hers. (She does also have some wonderful stand alone novels.)
Guards! Guards!
by Terry Pratchett
Lighthearted, humorous fantasy fare. This was my first Discworld novel and still my favorite. Really, this book would be great to read while lounging around on a beach and laughing to yourself while garnering curious looks from everyone else. (As I'm sure would happen.)
Beckoning Trails
by Emilie Loring
These were actually some of the first romance novels I ever read. With the sweet romance, light, but usually dangerous, mystery and slight gothic elements, I really feel that any book by Emilie Loring would be great for reading on the beach.
The Inspector and Mrs. Jeffries
by Emily Brightwell
While I really don't read mysteries anymore, these were some of my favorites. To me, the only way a mystery novel could be a beach bag book is if it is light on the macabre aspects and this cozy series fits the bill almost perfectly. As an added bonus, it's a historical setting and a fun cast of 'amateur investigators'.
Treasure Island
by Robert Louis Stevenson
Return to my young teenage - or, possibly, tween - years. Over one summer, I read this book, doling a little of it out over time. Like reading a chapter or two on the weekends and a little before bed. It is possible that, because of this, I am a little biased but when I think of the action, adventure and swashbuckling antics, I cannot picture a better place to read this than on a tropical beach. (And this cover is just delicious.)
Leviathan
by Scott Westerfeld
This book is a fairly light, adventure centric steampunk novel about WWII in a world quite different from ours. While it does have a few serious evens happen and somewhat thoughtful questions raised through the course of the series, it never takes the forefront, staying light when it could have done otherwise. This book is fast and easy to read, with makes it great for a day at the beach. It also has awesome artwork strewn about inside it.
So, there you go, books that I think would be great for an easy read at the beach. Let me know what you think and if you've read any of these books in the comments. Also, go ahead a leave me a link to your Top Ten Tuesday, and I'll visit.