Top Ten Tuesday is an original feature/weekly meme created at The Broke and the Bookish.
Considering how I had little clue what to do for this list when I first saw it, I am super happy with what I came up with. And really excited to share all these with you. You see, instead of making a list of one specific type of book, I've decided to suggest books for those new to the genre - or maybe people that haven't read a lot in the genre. Ergo 'dabbler' in that we dabble in various genres. Really excited for this and I hope I can get you some suggestions!
If you're new to fantasy...
Haven't spent as much time questing across the lands as you'd like? Want some magic and/or strange creatures?
Try:
Air Awakens by Elise Kova
This story is filled with magic, books, thoughts of a distant war and slow building romance.
Sora's Quest by T.L. Shreffler
A book that's got magic, a quest, a looming evil, friendship, danger and lots of non-humans. Plus the e-book is free!
If you're new to steampunk...
Imagine Victorian sci-fi. If you can, you're most of the way to understanding what this genre's all about. If you still want to know more...
Try:
Retribution Falls by Chris Wooding
I have two words for you: airship pirates. If you are not already curious, then I can do nothing more for you.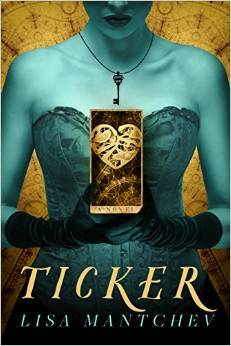 Ticker by Lisa Mantchev
This story takes steampunk's usual automata into a wonderful direction by giving the main girl a clockwork heart!
If you're new to sci-fi...
Want something a little more...out there - where there means in the stars? Tired of magic and want good old science?
Try:
The Comet's Curse by Dom Testa
This book has science, a deadly plague and a group of teenagers - and one snarky AI - as humanity's last, best hope.
Valor's Choice by Tanya Huff
Straight-up military sci-fi with a tough, no nonsense woman as the main character. And lots of aliens. And fights. And did I mention the alien fights?
If you're new to retellings...
Not all fairytales are created equal - and not all retellings are the same as the original. If you want to try a fresh take on the old tales...
Try:
The Stepsister Scheme by Jim C. Hines
What does a princess do after her happily ever after? Well, if she's Snow White, Sleeping Beauty and Cinderella, she takes a few lessons in badassery and becomes the Queen's 'secret agent.'
The Dark Realm by Anthea Sharp
This is a retelling of The Ballad of Tam Lin - set in the near future when a fully immersive computer games becomes a little too fully immersive and becomes the doorway between the mortal world and the realm of the fairies.
If you're new to romance...
We had the action and the edge-of-your-seat excitement. But if what you're really looking for is the swooning, the sighs of adoration...
Try:
The Butler Who Laughed by Michelle Martin
This book has it all: An arranged marriage - both parties teaming up in a wonderful friendship to break it, blackmail, disguises, a too-handsome 'butler' and a happily ever after.
The Fortune Hunter by Diane Farr
A poor rake and a wealthy heiress. A recipe for touching romance, mistaken identities, orphans and one man that often puts his foot in his mouth when it comes to wooing his lady love.
With most of these, I could have kept suggesting books but I chose these both because I really like all of the and because they are not as well known as many in the genres. You'll get plenty 'popular' suggestions if you look around a bit, so I went with things that even people not new to the genre might not know about. Hope you found something here to strike your fancy.