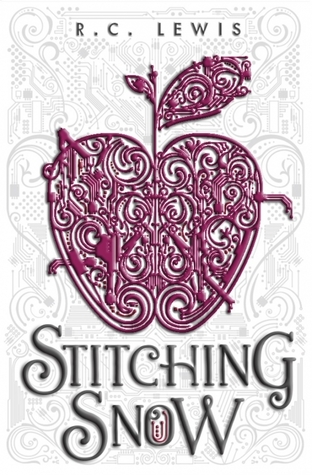 Stitching Snow by R.C. Lewis
Series: Standalone
Genre: Sci-Fi/Romance/Retelling
Add on Goodreads
Princess Snow is missing.
Her home planet is filled with violence and corruption at the hands of King Matthias and his wife as they attempt to punish her captors. The king will stop at nothing to get his beloved daughter back—but that's assuming she wants to return at all.
Essie has grown used to being cold. Temperatures on the planet Thanda are always sub-zero, and she fills her days with coding and repairs for the seven loyal drones that run the local mines.
When a mysterious young man named Dane crash-lands near her home, Essie agrees to help the pilot repair his ship. But soon she realizes that Dane's arrival was far from accidental, and she's pulled into the heart of a war she's risked everything to avoid. With the galaxy's future—and her own—in jeopardy, Essie must choose who to trust in a fiery fight for survival.
"The men will bet more to see me take some hits, particularly after what I cost them my last fight. Nothing like watching the legal beat down of a girl."
His jaw tightened. "That's sick, Essie."
"Welcome to Thanda. Don't worry so much, Dane. I never said I'd give them what they want."
Oh, how I love this book.
Okay, so Essie is absolutely wonderful. She's strong and tough. She knows how to take care of her self and she's cautious and suspicious about people. Some might even say paranoid. I knew I'd love her when this thought came up in her first fight:
Wouldn't want to botch the pretty girl's face, right? Idiot.
Essie is not an easy girl to get to know. She's prickly. There's things about her that I should find off putting, but I don't. (And thank heavens she's not 'spunky'.)
Dane is a real gentleman. Which kind of throws Essie for a loop so that's awesome to see. But, beyond that, I like Dane. He's kind of idealistic - maybe even a little naïve - but he's a really good guy. And I am of the firm belief that more love interests need to be good guys.
Now, as for the story and world building…
It's a retelling of Snow White set in space. A lot of people will probably start comparing it to The Lunar Chronicles right about now, but I don't see it. Sure, it's a retelling. And it's sci-fi. But that's really all the two have in common.
I'm impressed by the world building. There's a lot of questions early on, but the answers are slowly dropped and trickled in. (My biggest complaint is that Essie keeps her past a secret even from the reader, even though if you read the synopsis of the book, you probably know who she is.)
There are several planets - and I'm way to entertained by the fact that it's mentioned that two of them will be passing close to each other in their orbit. Such a small fact, but something that is usually forgotten in sci-fi. And there's a bit of human gene evolution too, which is something I love - but am still not sure how well it really fits in the story.
And the retelling part of it…let me just say: Essie has her dwarves! And the tale kind of seems to start after 'Snow White' goes into hiding from her stepmother. It's really great the way little things were kept from the fairytale, but it never seems like too much was kept. This is very definitely still it's own story.
I thought I was going to have a small complaint that it's a slow moving book. There's really not a lot of action in it. While that's true, it also works beautifully for the story and I am so happy with the book.