Top Ten Tuesday is an original feature/weekly meme created at The Broke and the Bookish.
Top Ten Most Anticipated Debut Novels For 2015
I'm really not known for getting excited for debut novels before they're released. I like getting a few reviews first, seeing what was liked/disliked about the book and also checking out a preview so I can see what the writing style is like before I start saying 'I want it'. So, this is going to be interesting to look back at this list at the end of the year and see how many of these books I actually read.
A Sleeping Beauty retelling where everything doesn't end with Aurora waking up to her true love's kiss? Where do I sign up. Seriously, this book sounds simply amazing. I love the idea that 'true love' means little when he's a total stranger and that it's not all 'happily ever after' when you're waken from a coma by said stranger kissing you. Really, Sleeping Beauty was not a favorite fairytale of mine, but this sounds like it could be beyond awesome.
Teen-aged, female Moriarty teams up with school-mate Sherlock Holmes to solve a mystery in modern-day London? Okay, I'm interested. First of all, you've gotta know that I am huge fan of Holmes. Have been ever since I was first introduced to the original short stories when I was probably too young to be reading them. I've read a lot of the additional cases and reboots, seen various movies/shows and still adore Holmes. I'm interested, but also slightly worried because I have seen poor adaptations. (Also, I gotta admit, I've also come across a female Moriarty before, so the originality is somewhat lost on me there.)
(The Sin Eater's Daughter #1)
A seventeen year old girl whose touch can kill and is the crown executioner? Sounds like Poison, Graceling, Throne of Glass (and I'm sure there's another I'm missing). So sue me, I tend to like these stories. Let's just say I'm very curious and hopeful that this book will be as entertaining as the three it sounds like. (Besides, I'm a little in love with that cover.)
(The Girl at Midnight #1)
'Beneath the streets of New York City live the Avicen, an ancient race of people with feathers for hair and magic running through their veins.' Feathers for hair? Really? You mean like that guy from Buck Rogers in the 25th Century had? Sorry, all joking aside, this sounds like it could be a really fun book - something like a magical treasure hunt.
(The Wrath & the Dawn #1)
'Khalid, the eighteen-year-old Caliph of Khorasan, takes a new bride each night only to have her executed at sunrise.' I've gotta admit to a certain fondness for the original A Thousand and One Nights. I'm not really sure why, maybe because I like the idea of a strong women not having to fight to show her strength. Or maybe I'm over thinking it and it's just because I like a good story. (Or because I like a good romance as much as the next closet romantic.) Whatever the reason, this book sounds fun. As long as it's not a bad case of Stockholm Syndrome.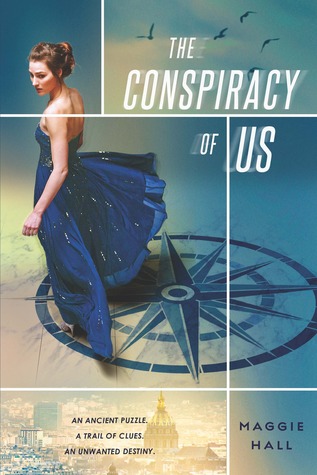 The Conspiracy of Us
Maggie Hall
'To fight her destiny as the missing heir to a powerful and dangerous secret society, sixteen-year-old Avery West must solve an ancient puzzle in a deadly race across Europe.' While this isn't the kind of book that usually catches my attention, I do love secret societies and - well - if this were a movie, I'd probably love it.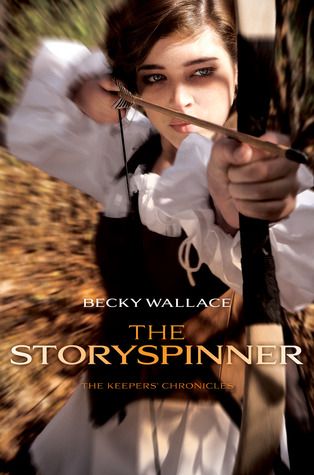 The Storyspinner
(The Keepers Chronicles #1)
Becky Wallace
'Drama and danger abound in this fantasy realm where dukes play a game for the throne, magical warriors race to find the missing heir, and romance blossoms where it is least expected.' I'll be honest, this sounds like a generic 'missing heir' fantasy - which can be fun sometimes, but it's that cover that keeps bringing me back to it. Something about it proclaims 'I'm not as generic as you think'. (Besides, I want that girl's clothes.)
Monstrous
MarcyKate Connolly
'The city of Bryre suffers under the magic of an evil wizard. Because of his curse, girls sicken and disappear without a trace, and Bryre's inhabitants live in fear.' While this book is billed as both YA and MG, and I tend to be very cautious about reading MG because I've read some that were too juvenile for me, this book had me at 'evil wizard'.
Valiant
Sarah McGuire
Also billed as both YA and MG - but 'A debut fairy tale reimagining featuring a strong female character and a daring quest [...]'. I say, yes please. Really, it has the potential to be really awesome I think.
Becoming Jinn
(Becoming Jinn #1)
Lori Goldstein
While this book has a very high chance of annoying me, any fictional book that has the word 'Afrit' in the description has automatically caught my attention. I do like the idea of Jinn too, so this could be really fun.
You know, before I started this list, I only knew about one of these books. Then, looking into debuts for this year actually unearthed some pretty awesome sounding reads. I'll be really interested to see which of these (admittedly, if any) I manage to read this year. What are you anticipating? Leave me a comment and link and I'll visit. And I would love to know what you think of my list. Thanks for stopping by.