It seems that the closer we get to 2016, the fewer new releases there are that I'm super excited for. This month, I only have three, but two of them are definite purchases for me.
The Death of Dulgath by Michael J. Sullivan
Three times they tried to kill her. Then professionals were hired. So was Riyria.
When the last member of the oldest noble family in Avryn is targeted for assassination, Riyria is hired to foil the plot. Three years have passed since the war-weary mercenary Hadrian and the cynical ex-assassin Royce joined forces to start life as rogues-for-hire. Things have gone well enough until they're asked to help prevent a murder. Now they must venture into an ancient corner of the world to save a mysterious woman who knows more about Royce than is safe, and cares less about herself than is sane.
From the best-selling author of The Riyria Revelations comes the third installment of The Riyria Chronicles. Although part of a series, it's designed to thrill both new readers looking for fun, fast-paced fantasy and Riyria veterans wishing to reunite with old friends.
Want to read so badly. I should be getting my copy really, really soon, too.
Three royal houses ruling three interplanetary systems are on the brink of collapse, and they must either ally together or tear each other apart in order for their people to survive.
Asa is the youngest daughter of the house of Fane, which has been fighting a devastating food and energy crisis for far too long. She thinks she can save her family's livelihood by posing as her oldest sister in an arranged marriage with Eagle, the heir to the throne of the house of Westlet. The appearance of her mother, a traitor who defected to the house of Galton, adds fuel to the fire, while Asa also tries to save her sister Wren's life . . . possibly from the hands of their own father.
But as Asa and Eagle forge a genuine bond, will secrets from the past and the urgent needs of their people in the present keep them divided?
I've got pretty mixed feelings about reading this book - because I can totally see the romance overtaking what should be an epic sci-fi story. I'm not sure I really need the swoonyness of this, but we'll see.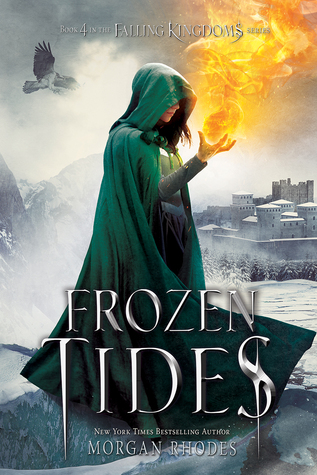 Rebels, royals, and monsters wage war over the Mytican throne in the shocking fourth book of the Falling Kingdoms series, from New York Times bestselling author Morgan Rhodes.
CLEO: Reeling after a bloody showdown in Limeros ending with Amara's abduction of the water crystal, and a vacancy in the Mytican throne, Princess Cleo must cast aside her feelings and look toward her kingdom with the eyes of a Queen.
MAGNUS: With the kingdom in chaos, Princess Lucia still missing and quite possibly in danger, and a shocking realization about Cleo, the steely prince is once again torn between love and duty, leaving him wondering whether he's strong enough to rule his people.
LUCIA: The young sorcercess has had her vengeance after the cruel death of her first and only love. Heartbroken and unable to trust anyone, she allies with the awoken Fire god, who also seeks revenge.
JONAS: After escaping death by the skin of his teeth, the defeated rebel—along with a mysterious stranger–leader reunites with Princess Cleo, only to find himself a mere pawn in a dangerous hunt for the elusive Kindred.
KING GAIUS: Abandoned by Melenia and betrayed by his own children, Gaius flees Mytica and sails to Kraeshia, where he attempts to ally with the famously brutal emperor across the Silver Sea.
Yay, yay, yay! This is going to be awesome. I've been looking forward to this since I read the third book and now I'll be able to get it soon. So looking forward, too, to getting back to Mytica - because that spinoff just didn't do it for me.
And that's it. Told you this month was a little light. Anyway, I am definitely looking forward to two of these and very interested in the other. How about you? Interested in any of these books? What books are you most excited for this month? (Seriously, shove some at me.;))