There are so many new books coming out this year that sound so good - so, I have decided to have a little post at the beginning of each month where I can talk about the books that release soon that interest me.
The month of March has some really awesome sounding books coming out. I can hardly wait.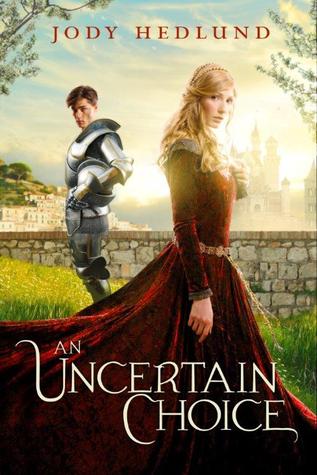 An Uncertain Choice by Jody Hedlund
Releases: March 3rd
Due to her parents' promise at her birth, Lady Rosemarie has been prepared to become a nun on the day she turns eighteen. Then, a month before her birthday, a friend of her father's enters the kingdom and proclaims her parents' will left a second choice. If Rosemarie can marry before the eve of her eighteenth year, she will be exempt from the ancient vow.
Before long, Rosemarie is presented with the three most handsome and brave knights in the land. But when the competition for her heart seemingly results in a knight playing foul, she begins to wonder if the cloister is the best place after all. If only one of the knights the one who appears the most guilty had not already captured her heart.
This sounds like a Christian (because yes, yes it is) fairytale. Do I need more of a reason to want to read it?
The Storyspinner by Becky Wallace
Releases: March 3rd
Drama and danger abound in this fantasy realm where dukes play a game for the throne, magical warriors race to find the missing heir, and romance blossoms where it is least expected.
In a world where dukes plot their way to the throne, a Performer's life can get tricky. And in Johanna Von Arlo's case, it can be fatal. Expelled from her troupe after her father's death, Johanna is forced to work for the handsome Lord Rafael DeSilva. Too bad they don't get along. But while Johanna's father's death was deemed an accident, the Keepers aren't so sure.
The Keepers, a race of people with magical abilities, are on a quest to find the princess—the same princess who is supposed to be dead and whose throne the dukes are fighting over. But they aren't the only ones looking for her. And in the wake of their search, murdered girls keep turning up—girls who look exactly like the princess, and exactly like Johanna.
With dukes, Keepers, and a killer all after the princess, Johanna finds herself caught up in political machinations for the throne, threats on her life, and an unexpected romance that could change everything.
Conniving dukes fighting for the throne? Magical warriors? Missing heirs? Yes, please! Very, very, yes please.
After a Fashion by Jen Turano
Releases: March 3
After years of working in a millinery shop, Miss Harriet Peabody dreams of the day when she'll open up her own shop and sell re-fashioned gowns to independent working women like herself. When a delivery errand goes sadly awry, her job--and her chance at saving enough for her shop--is at stake all due to a rather unfortunate misunderstanding with a customer.
Mr. Oliver Addleshaw enjoys a certain position in society, but his real aim is to follow in the footsteps of men like Cornelius Vanderbilt. On the verge of his biggest business deal yet, he learns his potential partner prefers to deal with men who are settled down and respectably married. As matters stand, Oliver's ex not-quite-fiance recently became unhinged and lost a poor shop girl her job. Oliver feels bad for the hapless Harriet and, hoping to kill two birds with one stone, asks for her help in making a good impression in his business deal.
Harriet dives into the circles of high society head first, only to find that her love of fashion can't make her fashionable. She'll never truly fit into Oliver's world, but just as she's ready to call off the fake engagement, fancy dinners, and elegant balls, a threat from her past forces both Oliver and Harriet to discover that love can come in the most surprising packages.
I love Jen's first series, and this one sounds like it will be just as much fun.
Mist of Midnight by Sandra Byrd
Releases: March 10th
Intriguing secondary characters and lush scenery contribute to the often sinister, even creepy, moments readers will come to anticipate. Infusing her story with mystery, tension, and emotion, Byrd strikes a fine balance between the darkness of a Gothic mystery and the sweetness of a captivating love story. Byrd—and Brontë—fans will enjoy.
Publisher's Weekly
In the first of a brand new series set in Victorian England, a young woman returns home from India after the death of her family to discover her identity and inheritance are challenged by the man who holds her future in his hands.
Rebecca Ravenshaw, daughter of missionaries, spent most of her life in India. Following the death of her family in the Indian Mutiny, Rebecca returns to claim her family estate in Hampshire, England. Upon her return, people are surprised to see her… and highly suspicious. Less than a year earlier, an imposter had arrived with an Indian servant and assumed not only Rebecca's name, but her home and incomes.
That pretender died within months of her arrival; the servant fled to London as the young woman was hastily buried at midnight. The locals believe that perhaps she, Rebecca, is the real imposter. Her home and her father's investments reverted to a distant relative, the darkly charming Captain Luke Whitfield, who quickly took over. Against her best intentions, Rebecca begins to fall in love with Luke, but she is forced to question his motives–does he love her or does he just want Headbourne House? If Luke is simply after the property, as everyone suspects, would she suffer a similar fate as the first "Rebecca"?
A captivating Gothic love story set against a backdrop of intrigue and danger, Mist of Midnight will leave you breathless.
I do adore my gothic romance/mystery books - always been one of those 'huh, you read that?' genres for me. This book caught my eye with that cover.
Prudence by Gail Carriger
Releases: March 17th
From New York Times bestselling author Gail Carriger comes a new novel in the world of the Parasol Protectorate starring Prudence, the daughter of Alexia Tarabotti.
When Prudence Alessandra Maccon Akeldama (Rue to her friends) is given an unexpected dirigible, she does what any sensible female would under similar circumstances - names it the Spotted Custard and floats to India in pursuit of the perfect cup of tea. But India has more than just tea on offer. Rue stumbles upon a plot involving local dissidents, a kidnapped brigadier's wife, and some awfully familiar Scottish werewolves. Faced with a dire crisis and an embarrassing lack of bloomers, what else is a young lady of good breeding to do but turn metanatural and find out everyone's secrets, even thousand-year-old fuzzy ones?
Yes, yes, yes! It's almost here. After reading the Parasol Protectorate Series and loving it, the Finishing School series and really, really liking it (book four comes in November!) there should be no wonder that I have been waiting
im
patiently for the better part of a year for this book.
Duplicity by N.K. Traver
Releases: March 17th
A computer-hacking teen. The girl who wants to save him. And a rogue mirror reflection that might be the death of them both.
In private, seventeen-year-old Brandon hacks bank accounts just for the thrill of it. In public, he looks like any other tattooed bad boy with a fast car and devil-may-care attitude. He should know: he's worked hard to maintain that façade. With inattentive parents who move constantly from city to city, he's learned not to get tangled up in things like friends and relationships. So he'll just keep living like a machine, all gears and wires.
Then two things shatter his carefully-built image: Emma, the kind, stubborn girl who insists on looking beneath the surface – and the small matter of a mirror reflection that starts moving by itself. Not only does Brandon's reflection have a mind of its own, but it seems to be grooming him for something—washing the dye from his hair, yanking out his piercings, swapping his black shirts for … pastels. Then it tells him: it thinks it can live his life better, and it's preparing to trade places.
And when it pulls Brandon through the looking-glass, not only will he need all his ill-gotten hacking skills to escape, but he's going to have to face some hard truths about who he's become. Otherwise he'll be stuck in a digital hell until he's old and gray, and no one will even know he's gone.
Huffington Post lists N.K. Traver's Duplicity as part of one of the great YA book trends to look for in 2015!
If you know me, you know I'm more fantasy or historical than contemporary - even if that contemporary is heavy on the sci-fi. But this book just sounds so good.
So, there we go, six books that I'm excited for. Really excited for. Are you waiting for any of these? Did I miss one (or more) that you are excited for? Let me know in the comments.