Top Ten Tuesday is an original feature/weekly meme created at The Broke and the Bookish.
Oh, I just knew this prompt would be right up my alley. There were so many books I read as a child that were so much fun and I'd love to re-read. I will admit, you'll probably be finding a lot of series' on here.
Top 10 Books From My Childhood (Or Teen Years) That I Would Love To Revisit
Sir Arthur Conan Doyle
I'm pretty sure I read these stories before I even became a teen - if not, I was a young teen while finishing them up. I would love to go back and re-read the entirety of the Holmes canon. Lately I've been thinking about doing just that.
Leave Horatio Alone
Eleanor Clymer
Oh, this book. I think there were two others in the series (I think) but this is the one that I remember the best. I always loved it and was so happy when my mom took me to the library and let this book be one of my books for the week. Now that I think about it, this was probably one of the very first books that instilled a love of books in me...
The Boxcar Children
Gertrude Chandler Warner
You know how, sometimes, you really liked something but are afraid to re-read it because of age - your age, not it's? Yeah, that's this series - as well as the next several. I read as many of these books as I could get from the library.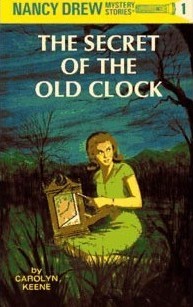 The Secret of the Old Clock
Carolyn Keene
I used to have a pretty decent collection of this series - not all of it by any means - but I've no idea what happened to them.
Franklin W. Dixon
Okay, to be fair, I'm not exactly sure that I read this book specifically, but I read several from the series. (This book simply got up here by the default of being first in the series.)
Kristy's Great Idea
Ann M. Martin
This series made me, in my pre-teen years, wish for a group of best friends and wish I could start a club and make money. I think I was a money-grubbing little thing...
The Disappearing Diamonds
Holly Beth Walker
You know, I almost completely forgot about this series - but it was so much fun. I loved the fact that the young girl detective had a Siamese cat sidekick.
The Secret of the Mansion
Julie Campbell
Two very important things to say about this series. First: I inherited a bunch of these books off my sister. She loved them and I thought they were a lot of fun. Of course, my opinion cannot help but be colored by a second, very important, fact. This book series gave me what was probably my second ever literary crush. (No, not Jim - even though that's who it seems like everyone else had a crush on. My guy was Brian. And Cap - their...cousin?)
Brad Strickland & Thomas E. Fuller
I have almost the entire collection of the Wishbone Mysteries as well as a fair amount of the Adventures of and the Classics. Wishbone was one of the tv series that got me into reading and when I first saw the books at a bookstore, I could hardly believe it. I really should re-read these books. (Collect the ones I'm missing, too.)
The Moonspinners
Mary Stewart
Now we are into my teen years. My first ever introduction to what I call gothic mysteries. I am still trying to recapture that magic I felt when reading this book. Gothic mysteries are mostly hit or miss for me, and this one is still a shinning example of why I love the genre. Thinking about it, I should buy my own copy and re-read it. (I originally borrowed it from my mom.)
Man, I read some weird stuff when I was young. Anyone else ever feel that way? Anyhow, I gotta admit, I didn't really know what would wind up on this list til I started writing it. Have you read any of these? Leave me a link and I'll visit your list.