Top Ten Tuesday is an original feature/weekly meme created at The Broke and the Bookish.
There's a lot of books I want to read this spring. (For some of the series I want to finish, check out last week's post.) I'm really hoping to get through some of the books that have been lurking around - either on the shelf or on my to-read list - read this spring to make way for new ones. Of course, as expected, there are some new books that I haven't gotten to yet that I really want to read.
Top Ten Books On My Spring TBR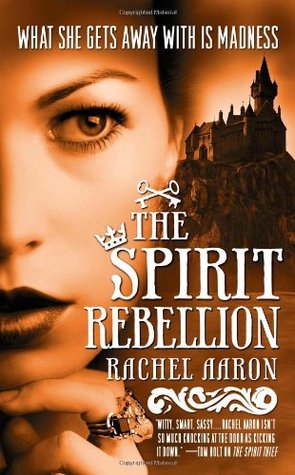 The Legend of Eli Monpress book 2
I've had this book sitting on my shelf for quite awhile. Considering that I really liked the first in the series, I have no excuse for not getting to this book sooner.
The Sin Eater's Daughter book 1
I wanted this book so badly that I even pre-ordered it (which I never do) and still haven't gotten around to reading it. (And now I've been hearing not so good things.)
I'm going to be borrowing this book from the library in ebook format. That is, once I can get ahold of my mom's library card and figure out what I'm supposed to do. (Hey, it'll be a new experience.)
The Custard Protocol book 1
It releases today ~ It releases today ~ *does a little dance that, thankfully, none of you can see* Ahem. Yes. I mean: I somewhat want to read this book. Just a little though, it's not like I've been waiting for this for two years. No. Not at all.
I don't actually own this book yet, but it will be one of my next purchases and I'm really looking forward to it. Hopefully I'll have time to read it soon.
The Lunar Chronicles book 3.5
I'll be participating in Fairy Tale Fortnight next month and this is the book I'm most looking forward to reading then.
I waited patiently to buy this book until it came to paperback - and now I'm so excited about reading it. This cover is actually what first interested me in the series.
The Mandrake Company book 1
So totally not the kind of book I usually read, but this is another pen-name for Lindsay Buroker, whose books I just adore. Besides, I got it for free. (And who am I to pass on free books.)
I actually borrowed this book, along with four others, from my mom back in December. This is the last one I've got to read and I really need to get to it so I can return them to her.
I'm cheating with this one. I've been reading it for the past two months and I really hope to get it finished later this month. It totally counts, though, if I finish it in the spring. Right?
I think this actually gives you a pretty good cross-section of what I usually read: fantasy with a bit of sci-fi thrown in, a dash of romance and the odd...oddball. (Like Vicious. Is it supposed to be contemporary? It sounds like it to me, and I never read contemporary. Not never, ever, just really seldom.)
What's on your list this week? Read any of these and think it so needs to move to the top of my TBR?