Top Ten Tuesday is an original feature/weekly meme created at The Broke and the Bookish.
I had every intention of doing an anti-valentine's day list. I was going to talk about all the awesome books I've read without even a hint of romance. Then I realized that there probably weren't any. It's hard to find those books. Instead, I decided to go in the exact opposite direction and leave you a list of my favorite romance books. (Don't ever let it be said that I only do things in half measures.) To me, a romance book is a book that the plot/story wouldn't work without the romance. So, let's get started.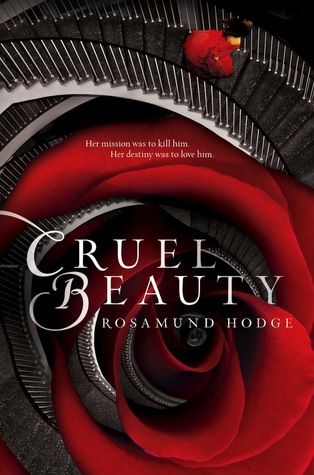 Cruel Beauty by Rosamund Hodge
Since birth, Nyx has been betrothed to the evil ruler of her kingdom-all because of a foolish bargain struck by her father. And since birth, she has been in training to kill him.
With no choice but to fulfill her duty, Nyx resents her family for never trying to save her and hates herself for wanting to escape her fate. Still, on her seventeenth birthday, Nyx abandons everything she's ever known to marry the all-powerful, immortal Ignifex. Her plan? Seduce him, destroy his enchanted castle, and break the nine-hundred-year-old curse he put on her people.
But Ignifex is not at all what Nyx expected. The strangely charming lord beguiles her, and his castle—a shifting maze of magical rooms—enthralls her.
As Nyx searches for a way to free her homeland by uncovering Ignifex's secrets, she finds herself unwillingly drawn to him. Even if she could bring herself to love her sworn enemy, how can she refuse her duty to kill him? With time running out, Nyx must decide what is more important: the future of her kingdom, or the man she was never supposed to love.
Romancing the Duke by Tessa Dare
As the daughter of a famed author, Isolde Ophelia Goodnight grew up on tales of brave knights and fair maidens. She never doubted romance would be in her future, too. The storybooks offered endless possibilities.
And as she grew older, Izzy crossed them off. One by one by one.
Ugly duckling turned swan?
Abducted by handsome highwayman?
Rescued from drudgery by charming prince?
No, no, and… Heh.
Now Izzy's given up yearning for romance. She'll settle for a roof over her head. What fairy tales are left over for an impoverished twenty-six year-old woman who's never even been kissed?
This one.
Trial and Temptation by Ruby Lionsdrake
After ten years of flying freighter ships from planet to planet, Val Calendula never thought she would apply for a job as a combat pilot in a mercenary outfit. But her brother has gotten himself into financial trouble, and he's heading to a mining prison if Val can't pay off his debts. Mercenaries don't always live long... but they make good money while they're alive. A few combat bonuses, and Val could earn what she needs. The problem? She might have graduated from the military flight academy, but she hasn't fought anything more dangerous than dust bunnies on the bridge lately. To make matters worse, the man in charge of hiring pilots was her instructor back at the academy. Commander Thatcher was almost as brilliant as he was arrogant and condescending, and he never seemed to think Val was smart enough to be there. She has no idea if she'll be able to convince him otherwise now... or if she'll be able to stand working with him.
The Stone Kingdom by Danielle E. Shipley
"Love and prince,
Both true, wed rose of white in realm of stone;
For blood begins,
But naught can be put right by blood alone."
One thoughtless act is all it takes to bring the curse threatened on Rosalba's christening day to pass. Now the princess must combine her desperate determination with the service of benevolent tailor Edgwyn Wyle to find the second half of the key to her kingdom's restoration.
The Butler Who Laughed by Michelle Martin
SHE WOULD MARRY FOR WEALTH OR POSITION... OR NOT AT ALL!
Thus, Sarah Thorndike was admonished by her parents. In fact, a bridegroom had been selected: Viscount Lyleton, a dandy of the first order with whom she would acquaint herself at a summer house party.
A more reluctant pair there never had been. And Lyleton had a problem quite apart from Sarah: blackmail. However, he had a most kindhearted and resourceful friend, Lord Rawlins, who, posing as a butler during the house party, would make a devilish attempt to steal a certain incriminating letter...and perhaps steal a heart along the way....
The Fortune Hunter by Diane Farr
It was time to swallow his pride and face the obvious. It would take a fortune to replenish his estate. He could neither borrow it nor earn it. Very well, he must marry it.
Desperate and destitute, the devilish Lord Rival has drawn up a list of wealthy women who might be willing to wed--and Lady Olivia Fairfax is one of them. But when he finally meets the mysterious spinster, she is hardly the lonely naif he expected. Her quick wit, sweet temper, and passionate predilection for charity work completely entrance him--and make it most difficult to bring his heartless seduction to its conclusion....
These Broken Stars by Amie Kaufman & Meagan Spooner
Luxury spaceliner Icarus suddenly plummets from hyperspace into the nearest planet. Lilac LaRoux and Tarver Merendsen survive – alone. Lilac is the daughter of the richest man in the universe. Tarver comes from nothing, a cynical war hero. Both journey across the eerie deserted terrain for help. Everything changes when they uncover the truth.
Balanced on the Blade's Edge by Lindsay Buroker
Colonel Ridge Zirkander isn't the model of military professionalism - he has a tendency to say exactly what's on his mind, and his record has enough demerits to wallpaper the hull of an airship - but as the best fighter pilot in the Iskandian army, he's used to a little leniency from his superiors. Until he punches the wrong diplomat in the nose and finds himself issued new orders: take command of a remote prison mine in the inhospitable Ice Blades Mountains. Ridge has never been in charge of anything larger than a flier squadron — what's he supposed to do with a frozen fortress full of murderers and rapists? Not to mention the strange woman who shows up right before he arrives...
Sardelle Terushan wakes from three hundred years in a mage stasis shelter, only to realize that she is the last of the Referatu, the sorcerers who once helped protect Iskandia from conquerors. Their subterranean mountain community was blown up in a treacherous sneak attack by soldiers who feared their power. Everyone Sardelle ever knew is dead, and the sentient soulblade she has been bonded to since her youth is buried in the core of the mountain. Further, what remains of her home has been infested by bloodthirsty miners commanded by the descendants of the very soldiers who destroyed her people.
Riveted by Meljean Brook
A century after a devastating volcanic eruption forced Iceland's inhabitants to abandon its shores, the island has become enshrouded in legend. Fishermen tell tales of giant trolls guarding the land and of seductive witches who steal men's hearts. But the truth behind the legends is mechanical, not magic—and the mystery of the island a matter of life and death for a community of women who once spilled noble blood to secure their freedom.
Five years ago, Annika unwittingly endangered that secret, but her sister Källa took the blame and was exiled. Now Annika serves on the airship Phatéon, flying from port to port in search of her sister and longing to return home . . . but that home is threatened when expedition leader David Kentewess comes aboard.
Determined to solve the mystery of his own origin, David will stop at nothing to expose Annika's secrets. But when disaster strikes, leaving David and Annika stranded on a glacier and pursued by a madman, their very survival depends on keeping the heat rising between them—and generating lots of steam . . .
Wild Orchid by Cameron Dokey
Wielding a sword as deftly as an embroidery needle, Mulan is unlike any other girl in China. When the emperor summons a great army, each family must send a male to fight. Tomboyish Mulan is determined to spare her aging father and bring her family honor, so she disguises herself and answers the call.
But Mulan never expects to find a friend, let alone a soul mate, in the commander of her division, Prince Jian. For all of Mulan's courage with a bow and arrow, is she brave enough to share her true identity and feelings with Prince Jian?
There we have ten books to get you in the valentine's day mood. (Or, if you're like me, make you wish it were already over.)