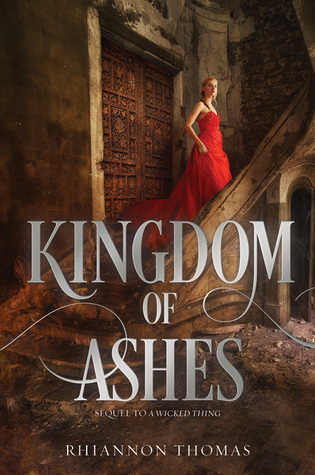 Kingdom of Ashes by Rhiannon Thomas
Series: A Wicked Thing #2
Genre: Fantasy/Retelling
Add on Goodreads
Asleep for a hundred years, awoken by a kiss, Aurora's life was supposed to be a fairytale. But since discovering that loyalty to the crown and loyalty to her country are two very different things, Aurora knows she can only dream of happily ever after. Once the enchanted princess, savior of her people, she is now branded a traitor.
Aurora is determined to free her home from the king's tyrannical rule, even if it means traveling across the sea to the kingdom of the handsome and devious Prince Finnegan—someone who seems to know far more about her magic than he should. However, Finnegan's kingdom has perils of its own, and any help he gives Aurora will come at a price.
As Aurora and Finnegan work together to harness her power—something so fiery and dangerous that is as likely to destroy those close to Aurora as it is to save them—she begins to unravel the mysteries surrounding the curse that was placed on her over a century before…and uncover the truth about the destiny she was always meant to fulfill.
Brimming with captivating fantasy and life-threatening danger, the sequel to A Wicked Thing takes Sleeping Beauty on an adventure unlike any she's ever had before.
"I am not a miss. I am Princess Aurora, heir to the throne of Alyssinia."
This book is so wonderful! More than I expected and almost exactly what I'd hoped for. The only tiny, niggling complaint I've got is I would have loved it even more if the romance had been lessened - because I cannot shake the overwhelming hope - because, after all, Aurora is so awesome - that the endgame for her will not be romance.
Her magic needed to be her strength, and she couldn't be strong while tearing herself apart.
Because, seriously, a girl this awesome and amazing doesn't need a guy. She really doesn't, but…well, I do like the romance that does seem to be slowly being built because Aurora is growing. She's coming into her own in such a wonderful way. She's developing and growing strong physically and mentally. I definitely will be looking forward to any more books with her.
"No one is just anything. Everyone will have more layers than you expect."
This time around, Aurora's actually got good women role models, too. Nettle, who I liked a lot in the first book is back and so wonderful. She's showing signs of being a great friend for Aurora and someone that will give her advice but not try to manipulate or control her. (And who really needed to be in this book even more!) And Queen Orla is awesome! She's a tough, strong woman that I would love to know more about. (And there's also a certain princess that I can truly see being a good friend of Aurora's.)
The guys…actually, there's not a lot of guys in this book. I don't want to give away spoilers, so let me just say: certain things have occurred that has made me look at several of the male characters that were in the first book in a different light.
And, this:
"I'm waiting for you to kiss me. I feel like you've been kissed enough times in your life."
Can I just say that at that point I knew there was no hope for me and I really started doubting that there'd be any for Aurora, either. (Okay, so it's breathtakingly cocky and confident, but what girl wouldn't want to be told by a guy that he's willing to wait and hand over the reins?)
This book, to me, is just all around more than the first one. There's a bit more action. There's more explanations. There's more character growth. It just pretty much everything I wanted from it.
Defiance filled every breath, a furious, desperate, proud determination to be exactly who she could be, regardless of what anyone else wanted or expected.
Final Note: I'm not sure if this is the final book in the series or not. As is, it's a pretty decent place to end - no looming cliffs - but I would love if there was more to Aurora's story that we'd get to read.