Top Ten Tuesday is an original feature/weekly meme created at The Broke and the Bookish.
Okay, I kind of fail at this. Most of the books I read don't take place in the US - because most of them don't even take place on earth. Somehow, I don't think that's what this prompt wants. So, I went to work. And ignored the thought that I could easily make this a top ten list of books that take place in England. Because I read a lot of them.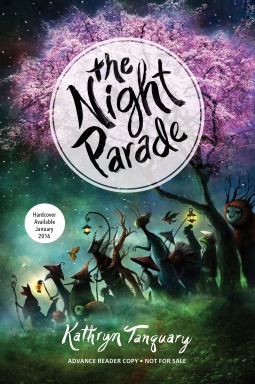 The Night Parade by Kathryn Tanquary
Location: Japan
The last thing Saki Yamamoto wants to do for her summer vacation is trade in exciting Tokyo for the antiquated rituals and bad cell reception of her grandmother's village. Preparing for the Obon ceremony is boring. Then the local kids take an interest in Saki and she sees an opportunity for some fun, even if it means disrespecting her family's ancestral shrine on a malicious dare.
But as Saki rings the sacred bell, the darkness shifts. A death curse has been invoked... and Saki has three nights to undo it. With the help of three spirit guides and some unexpected friends, Saki must prove her worth - or say good-bye to the world of the living forever.
Daughter of Smoke & Bone by Laini Taylor
Location: Czech Republic & Morocco
Around the world, black hand prints are appearing on doorways, scorched there by winged strangers who have crept through a slit in the sky.
In a dark and dusty shop, a devil's supply of human teeth grows dangerously low.
And in the tangled lanes of Prague, a young art student is about to be caught up in a brutal otherworldly war.
Meet Karou. She fills her sketchbooks with monsters that may or may not be real, she's prone to disappearing on mysterious "errands", she speaks many languages - not all of them human - and her bright blue hair actually grows out of her head that color. Who is she? That is the question that haunts her, and she's about to find out.
When beautiful, haunted Akiva fixes fiery eyes on her in an alley in Marrakesh, the result is blood and starlight, secrets unveiled, and a star-crossed love whose roots drink deep of a violent past. But will Karou live to regret learning the truth about herself?
Flash Gold by Lindsay Buroker
Location: Canada
Eighteen-year-old Kali McAlister enters her steam-powered "dogless sled" in a race, intending to win the thousand-dollar prize and escape remote Moose Hollow forever. The problem? Fortune seekers and airship pirates are after her for the secret to flash gold, her late father's alchemical masterpiece.
With her modified rifle and a pocketful of home-made smoke bombs, Kali wouldn't normally hide from a confrontation, but taking on a whole airship single-handedly is a daunting task. Unfortunately, the other racers won't assist her--they're too busy scheming ways to sabotage her unorthodox sled.
When a sword-slinging stranger shows up, wanting to hire on as her protector, she's sure he has ulterior motives, but he's the only one interested in helping her. The question is...why?
Details: an 18,000-word (75 page) steampunk novella set in the Yukon during the gold rush era.
Ink and Bone by Rachel Caine
Location: Egypt & Germany (mostly)
In an exhilarating new series, New York Times bestselling author Rachel Caine rewrites history, creating a dangerous world where the Great Library of Alexandria has survived the test of time…
Ruthless and supremely powerful, the Great Library is now a presence in every major city, governing the flow of knowledge to the masses. Alchemy allows the Library to deliver the content of the greatest works of history instantly—but the personal ownership of books is expressly forbidden.
Jess Brightwell believes in the value of the Library, but the majority of his knowledge comes from illegal books obtained by his family, who are involved in the thriving black market. Jess has been sent to be his family's spy, but his loyalties are tested in the final months of his training to enter the Library's service.
When his friend inadvertently commits heresy by creating a device that could change the world, Jess discovers that those who control the Great Library believe that knowledge is more valuable than any human life—and soon both heretics and books will burn…
Prudence by Gail Carriger
Location: India
From New York Times bestselling author Gail Carriger comes a new novel in the world of the Parasol Protectorate starring Prudence, the daughter of Alexia Tarabotti.
When Prudence Alessandra Maccon Akeldama (Rue to her friends) is given an unexpected dirigible, she does what any sensible female would under similar circumstances - names it the Spotted Custard and floats to India in pursuit of the perfect cup of tea. But India has more than just tea on offer. Rue stumbles upon a plot involving local dissidents, a kidnapped brigadier's wife, and some awfully familiar Scottish werewolves. Faced with a dire crisis and an embarrassing lack of bloomers, what else is a young lady of good breeding to do but turn metanatural and find out everyone's secrets, even thousand-year-old fuzzy ones?
Wild Orchid by Cameron Dokey
Location: China
Wielding a sword as deftly as an embroidery needle, Mulan is unlike any other girl in China. When the emperor summons a great army, each family must send a male to fight. Tomboyish Mulan is determined to spare her aging father and bring her family honor, so she disguises herself and answers the call.
But Mulan never expects to find a friend, let alone a soul mate, in the commander of her division, Prince Jian. For all of Mulan's courage with a bow and arrow, is she brave enough to share her true identity and feelings with Prince Jian?
Wings of the Falcon by Barbara Michaels
Location: Italy
The death of her English father left Francesca alone and unprotected, with nowhere to turn but to the noble Italian family of her late mother. Adrift in a strange land, surrounded by cold and suspicious relatives who had disowned her mother on her wedding day, Francesca is determined to make the best of a bad situation. But nothing could have prepared her for the nest of dark secrets and oppressive cruelty she has been cast into. And her fate now rests in the hands of a mysterious horseman known as the Falcon, whose appearance will speed her salvation ... or hasten her doom.
The Beautiful and the Cursed by Page Morgan
Location: France
After a bizarre accident, Ingrid Waverly is forced to leave London with her mother and younger sister, Gabby, trading a world full of fancy dresses and society events for the unfamiliar city of Paris.
In Paris there are no grand balls or glittering parties, and, disturbingly, the house Ingrid's twin brother, Grayson, found for them isn't a house at all. It's an abandoned abbey, its roof lined with stone gargoyles that could almost be mistaken for living, breathing creatures.
And Grayson has gone missing.
No one seems to know of his whereabouts but Luc, a devastatingly handsome servant at their new home.
Ingrid is sure her twin isn't dead—she can feel it deep in her soul—but she knows he's in grave danger. It will be up to her and Gabby to navigate the twisted path to Grayson, a path that will lead Ingrid on a discovery of dark secrets and otherworldly truths. And she'll learn that once they are uncovered, they can never again be buried.
Crocodile on the Sandbank by Elizabeth Peters
Location: Egypt
Set in 1884, this is the first installment in what has become a beloved bestselling series. At thirty-two, strong-willed Amelia Peabody, a self-proclaimed spinster, decides to use her ample inheritance to indulge her passion, Egyptology. On her way to Egypt, Amelia encounters a young woman named Evelyn Barton-Forbes. The two become fast friends and travel on together, encountering mysteries, missing mummies, and Radcliffe Emerson, a dashing and opinionated archaeologist who doesn't need a woman's help -- or so he thinks.
The Butler Who Laughed by Michelle Martin
Location: England
SHE WOULD MARRY FOR WEALTH OR POSITION... OR NOT AT ALL!
Thus, Sarah Thorndike was admonished by her parents. In fact, a bridegroom had been selected: Viscount Lyleton, a dandy of the first order with whom she would acquaint herself at a summer house party.
A more reluctant pair there never had been. And Lyleton had a problem quite apart from Sarah: blackmail. However, he had a most kindhearted and resourceful friend, Lord Rawlins, who, posing as a butler during the house party, would make a devilish attempt to steal a certain incriminating letter...and perhaps steal a heart along the way....
That...actually wasn't as difficult as I expected. I had fun putting this together and would love to see your lists so leave me a link in the comments!