And this is the point that my new releases start really filtering off. This is my least populated month, but it just so happens that both books are ones I really, really want to continue their respective tales.
Releases July 5th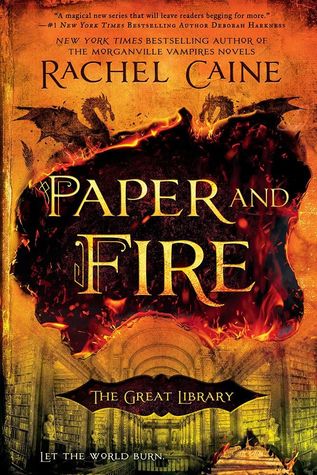 Paper and Fire by Rachel Caine
In Ink and Bone, New York Times bestselling author Rachel Caine introduced a world where knowledge is power, and power corrupts absolutely. Now, she continues the story of those who dare to defy the Great Library—and rewrite history…
With an iron fist, The Great Library controls the knowledge of the world, ruthlessly stamping out all rebellion, forbidding the personal ownership of books in the name of the greater good.
Jess Brightwell has survived his introduction to the sinister, seductive world of the Library, but serving in its army is nothing like he envisioned. His life and the lives of those he cares for have been altered forever. His best friend is lost, and Morgan, the girl he loves, is locked away in the Iron Tower and doomed to a life apart.
Embarking on a mission to save one of their own, Jess and his band of allies make one wrong move and suddenly find themselves hunted by the Library's deadly automata and forced to flee Alexandria, all the way to London.
But Jess's home isn't safe anymore. The Welsh army is coming, London is burning, and soon, Jess must choose between his friends, his family, or the Library willing to sacrifice anything and anyone in the search for ultimate control…
Releases July 19th
Imprudence by Gail Carriger
London is in chaos.
Rue and the crew of The Spotted Custard returned from India with revelations that shook the foundations of the scientific community. There is mass political upheaval, the vampires are tetchy, and something is seriously wrong with the local werewolf pack. To top it all off, Rue's best friend Primrose keeps getting engaged to the most inappropriate military types.
Rue has got personal problems as well. Her vampire father is angry, her werewolf father is crazy, and her obstreperous mother is both. Worst of all, Rue's beginning to suspect what they all really are… is frightened.
When the Custard is ordered to Egypt, transporting some highly unusual passengers, Rue's problems go from personal to impossible. Can she get Percy to stop sulking? Will she find the true cause of Primrose's lovesickness? And what is Quesnel hiding in the boiler room?
That is it. That's all the books I've got that I want/am interested in that release this month! Please comment and tell me what awesome books I'm missing and that I have to add to my TBR!