Top Ten Tuesday is an original feature/weekly meme created at The Broke and the Bookish.
So, this post is pre-dated and the rate I've been adding books, these are probably no longer the most recent ones I added to my list, but here they are nonetheless. (And, interestingly enough, gives a pretty good treering slice of what I read. And has much fewer series continuations than I expected.)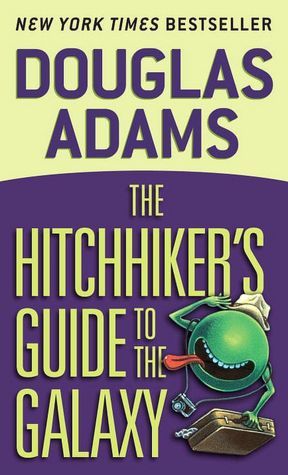 The Hitchhiker's Guide to the Galaxy by Douglas Adams
Seconds before the Earth is demolished to make way for a galactic freeway, Arthur Dent is plucked off the planet by his friend Ford Prefect, a researcher for the revised edition of The Hitchhiker's Guide to the Galaxy who, for the last fifteen years, has been posing as an out-of-work actor.
Together this dynamic pair begin a journey through space aided by quotes from The Hitchhiker's Guide ("A towel is about the most massively useful thing an interstellar hitchhiker can have") and a galaxy-full of fellow travelers: Zaphod Beeblebrox--the two-headed, three-armed ex-hippie and totally out-to-lunch president of the galaxy; Trillian, Zaphod's girlfriend (formally Tricia McMillan), whom Arthur tried to pick up at a cocktail party once upon a time zone; Marvin, a paranoid, brilliant, and chronically depressed robot; Veet Voojagig, a former graduate student who is obsessed with the disappearance of all the ballpoint pens he bought over the years.
The Woman Who Rides Like a Man by Tamora Pierce
"Let her prove herself worthy as a man."
Newly knighted, Alanna of Trebond seeks adventure in the vast desert of Tortall. Captured by fierce desert dwellers, she is forced to prove herself in a duel to the death -- either she will be killed or she will be inducted into the tribe. Although she triumphs, dire challenges lie ahead. As her mythic fate would have it, Alanna soon becomes the tribe's first female shaman -- despite the desert dwellers' grave fear of the foreign woman warrior. Alanna must fight to change the ancient tribal customs of the desert tribes -- for their sake and for the sake of all Tortall.
Alanna's journey continues...
Rebel Magisters by Shanna Swendson
Tea, Love ... and Revolution!
The Rebel Mechanics aren't the only group plotting revolution against the magical British Empire. There are rebel magisters, as well, and Verity Newton and her magister employer, Lord Henry, know that the only way for the revolution to succeed is if both groups work together. A diplomatic mission seems like the perfect opportunity for them to meet with rebels in other colonies and gather support—right under the governor's nose.
From drawing rooms, ballrooms, and the harbor in Boston to the streets of Charleston, Verity and Henry find themselves up against stubborn factions of both magisters and Mechanics and increasingly aware that they can only really count on each other as their relationship deepens. It may take a real crisis to unite the rebel movements and rally them to the cause—but could such a crisis also tear them apart?
Telepath by Janet Edwards
Amber is one of over a million eighteen-year-olds in one of the great hive cities of twenty-sixth century Earth. She's about to enter the Lottery of 2532, which will assess her abilities and decide her hive level, her profession, her whole future life. Amber's dream is to be level 10 or above, her nightmare is to be a level 99 Sewage Technician.
When Lottery discovers Amber is a rare and precious telepath, she must adapt to a new life protecting the people of the crowded hive city. Her job is hunting down criminals before they commit their crimes, but she doesn't know she's being hunted herself.
Left-Hand Gods by Jamie Lackey
Elizabeth Avigaline has spent her whole life hiding because of the magic in her blood, a gift to left-handed people from the Left-Hand Gods.
People like Beth have been hated, feared, and burned at the stake in Cadarnfel for over three hundred years, ever since magic broke the old Empire. But the new Queen is left-handed, and things are finally changing.
Beth leaves the safety of her home and travels to Cadarnfel's plague-ravaged capital with her unwanted fiancé, her scheming mother, and Solas Brightwind, a handsome mage sent to fetch her. Soon after Beth arrives, Dumarion, the only left-handed dragon, arrives with a warning.
An army of demons is preparing to attack the city on the night of the next new moon.
The demons won't stop after destroying the city–the fate of the entire world rests on the defenders' shoulders, and they have less than a month to prepare.
The Winner's Crime by Marie Rutkoski
Book two of the dazzling Winner's Trilogy is a fight to the death as Kestrel risks betrayal of country for love.
The engagement of Lady Kestrel to Valoria's crown prince means one celebration after another. But to Kestrel it means living in a cage of her own making. As the wedding approaches, she aches to tell Arin the truth about her engagement... if she could only trust him. Yet can she even trust herself? For—unknown to Arin—Kestrel is becoming a skilled practitioner of deceit: an anonymous spy passing information to Herran, and close to uncovering a shocking secret.
As Arin enlists dangerous allies in the struggle to keep his country's freedom, he can't fight the suspicion that Kestrel knows more than she shows. In the end, it might not be a dagger in the dark that cuts him open, but the truth. And when that happens, Kestrel and Arin learn just how much their crimes will cost them.
The Spirit War by Rachel Aaron
Eli Monpress is vain. He's cocky. And he's a thief.
But he's a thief who has just seen his bounty topped and he's not happy about it. The bounty topper, as it turns out, is his best friend, bodyguard, and master swordsman, Josef. Who has been keeping secrets from Eli. Apparently, he's the only prince of a rather feisty country and his mother (a formidable queen who's every bit as driven and stubborn as he is) wants him to come home and do his duty, which means throwing over personal ambitions like proving he's the greatest swordsman who ever lived.
Family drama aside, Eli and Josef have their hands full. The Spirit Court has been usurped by the Council of Thrones and someone calling herself the Immortal Empress is staging a massive invasion. But it's not just politics --- the Immortal Empress has a specific target in mind: Eli Monpress, the greatest thief in the world.
The Stowaway Debutante by Rebecca Diem
Airships, pirates, and hidden identities…
When Clara dreamed of running away to seek her own adventures, she never imagined that a chance encounter with the legendary Captain Duke might set her life on an entirely different course.
Armed with her wit and charm, Clara can usually talk her way out of any troubles. But first, she has to get back to solid ground…
--
Clara stole a quiet breath of relief when the loud man's boots retreated toward the stairwell. She could hear the other two moving about the cargo hold, and hoped that her own thudding heartbeat would not betray her position.
She quickly thought through her options: Could she bribe them? Should she fight? Could she run? She made herself as small as possible and waited, every instinct on high alert. The lighter pair of footsteps was getting closer.
A shuffle. A step. He must be less than four feet from her, only the crate she huddled against blocking her from his view. When his voice called out, the blood froze in Clara's veins.
"Hey, look over here!"
King's Blood Four by Sheri S. Tepper
In the lands of the True Game, your lifelong identity will emerge as you play. Prince or Sorcerer, Armiger or Tragamor, Demon or Doyen... Which will it be?
Wings of Equity by Sean Kennedy
The truth is that those who make a difference usually get martyred. What good are you dead?
Ezra Kneebone is most at home in the skies, piloting his airship with his best friend Jazz, even if it doesn't quite pay the bills or warm Ezra's empty bed. Those same skies are also the territory of a man known as Icarus, who uses his metal wings to steal from the rich and feed the poor. Icarus and Ezra could be soul mates but for one thing: Icarus has a bounty on his head, and Ezra is desperate for money.
Against the wishes of Jazz and her partner, the formidable Lady Bart, Ezra is determined to get his man... in more ways than one. But when Icarus saves Ezra's life, Ezra realizes he would be betraying a hero—and his heart—if he turned Icarus in. Unfortunately, the bounty is tempting more than one hunter, and Ezra will find that loving a fugitive may mean becoming one too.
I'd love to know if you've read any of these books and what you thought of them!