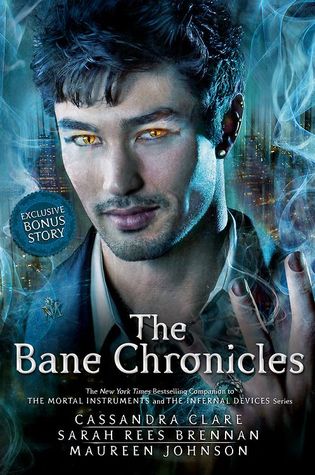 The Bane Chronicles by Cassandra Clare, Sarah Rees Brennan and Maureen Johnson
Series:
The Bane Chronicles #1-11
Genre:
Short Stories
Add on Goodreads
This collection of eleven short stories illuminates the life of the enigmatic Magnus Bane, whose alluring personality, flamboyant style, and sharp wit populate the pages of the #1 New York Times bestselling series, The Mortal Instruments and The Infernal Devices. (from Goodreads)

This book has eleven short stories in it, arranged in what seems to be chronological order. The first ten are around fifty pages each and the last one is about fifteen pages. Before I get to my breakdown of the stories, I'd like to note that prior to this book, the only stuff about the Shadowhunters that I read was The Infernal Devices series. So, I really didn't know much about Magnus before this book. (It was, after all, a impulse purchase to read over Thanksgiving.)
What Really Happened in Peru
3 stars
As you might have guessed, this is the story of why Magnus was banned from Peru. The story covers over a hundred and fifty year, but starts the earliest of all the stories in this book. This story is certainly one of the most amusing here, though it also felt somewhat pointless by the time I reached the end.
The Runaway Queen
2 stars
Magnus Bane in France during the time of the French Revolution. This story felt like it added very little to the book, to the world of the Shadowhunters and to - well, anything in general. I didn't hate the story, but it felt somewhat pointless.
Vampires, Scones, and Edmund Herondale
2 stars
My least favorite story in the book. I honestly cannot even sum it up because I still don't know what the point or plot of this story was. Maybe something to do with peace treaties - or perhaps love? (It took until reading a later story in this book to understand why this was even interesting.)
The Midnight Heir
2 stars
Magnus finds a young Shadowhunter, inebriated, and takes him home to his parents, Will and Tessa, but what is wrong with the young man. I'm of two minds with this story because, on the one hand, short stories are supposed to be just like novels: there's supposed to be a structure to the story and, perhaps most importantly, a climax at the end. In this book, it was as though Magnus was dropped down in the middle of the plot and plucked up again before anything was resolved. On the other hand, it was awesome getting to read (even if it was just a little) about Jem, Tessa and Will again.
The Rise of Hotel Dumort
4 stars
The great stock market crash, and Magnus getting a front role seat for the aftereffects. When I read this I said 'finally, a story that actually has a plot and a denouement'. It was awesome and I loved the way things happened in this story.
Saving Raphael Santiago
4 stars
Magnus is hired by a worried mother to find her son, who has left to try to kill the vampire terrorizing his neighborhood. My favorite story in here. The plot was awesome and it has the perfect blend of humor and seriousness for me. I also kind of adore the character of Raphael.
The Fall of Hotel Dumort
3 stars
Vampires running rampant, feeding indiscriminately. Magnus Bane, right in the thick of it as usual. This story was mostly a lot of fun, even with the very obvious 1970's feel, but I didn't really care for Magnus' final decision at the end of it.
What to Buy the Shadowhunter Who Has Everything
3 stars
It's Alec Lightwood's birthday, and Magnus is busy trying to define their relationship to himself. And find the perfect gift. While this story wasn't as humorous as I expected, neither was it extremely serious. Really, it was more of a character bit about Magnus and it was nice to see him being a little insecure and a lot less composed than usual.
The Last Stand of the New York Institute
4 stars
Exactly what the title says, plus rogue Shadowhunters. A prequel to The Mortal Instruments series. This story was a lot of fun and it was awesome to see how Shadowhunters behave - both the best and the worst in them.
The Course of True Love (And First Dates)
4 stars
Magnus and Alec's first date isn't exactly what either of them expected, planned or wanted. This is an extremely cute, fluffy, romantic story and, honestly, it's one of my favorites.
The Voicemail of Magnus Bane
3 stars
Set after a certain scene in the fifth The Mortal Instruments book. This was the one story that was actually confusing, from a person that's never read any of TMI. The other stories were either completely stand-alone, or really easy to understand. This one was confusing only if you've not read TMI - but it was also funny and entertaining. And short enough that it wasn't aggravating.