There's always those books that you meant to review, the books that you read before you started reviewing, or maybe you reviewed one of the books but it wasn't even the first one. Well, here's my answer to that: Series Spotlight. I'll be reviewing an entire series, and just generally talk about it
The Emperor's Edge series by Lindsay Buroker
This is a seven book series with several short stories and novellas that take place between books.
The Emperor's Edge
Dark Currents
Deadly Games
Conspiracy
Blood and Betrayal
Forged in Blood I
Forged in Blood II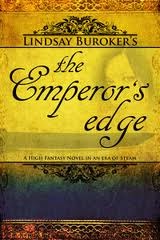 Don't miss out on the best-selling Emperor's Edge series (2013 Goodreads Choice Awards Nominee).
The adventure starts here...
Imperial law enforcer Amaranthe Lokdon is good at her job: she can deter thieves and pacify thugs, if not with a blade, then by toppling an eight-foot pile of coffee canisters onto their heads. But when ravaged bodies show up on the waterfront, an arson covers up human sacrifices, and a powerful business coalition plots to kill the emperor, she feels a tad overwhelmed.
Worse, Sicarius, the empire's most notorious assassin, is in town. He's tied in with the chaos somehow, but Amaranthe would be a fool to cross his path. Unfortunately, her superiors order her to hunt him down. Either they have an unprecedented belief in her skills... or someone wants her dead.
I love this series.
Honestly, simple love it. I think somewhere (here, maybe) I reviewed the first book in this series, but proceeded to read the other six too quickly to keep up with reviewing them. The whole series takes place in less than a year and is one fast-paced adventure after another. From underwater lairs to daring train hijackings, this is a fun, adventure series.
While I do love the characters, one of the best things about this series to me is the setting. You'll see a note on the first book 'A High Fantasy Novel in an Era of Steam'. Well, I thought that would mean fantasy steampunk. It doesn't. What it means instead is that this is not your typical medieval fantasy setting. This is a world that is growing. It has changed in the past and it is changing now. Women are running businesses. Our heroine is even an Enforcer (a type of cop) - something that would have been unheard of fifty years ago in this world. There are steam powered 'lorries'.
The friendships grow between the characters, as well as a couple of cases of romance - but none of it takes over for the 'save the world' (or, in this case, the country) story that is so common in fantasy. I love how there is an overarching plotline, but each book has it's own villain and climax.
Honestly, this is one of the fantasy series that I would recommend to anyone that wants a fun story with colorful characters.
If you're interested in Lindsay Buroker, you can find her website
here
.