What's a TBR jar?
It's simple, you cut out some paper, write down the titles of all your books, one on each scrap of paper, fold and dump into a canning jar. Then, whenever you want/need to, you draw out a scrap of paper and the book written on it is the book you read. See, told you it was simple.
Original idea comes from Alex in Leeds.
What do I need to make one?
Scissors
Paper to cut up
Canning jar
Ink pen or pencil
Books
Ruler and Pencil (optional only if you aren't like me and don't have an obsesion over perfect lines)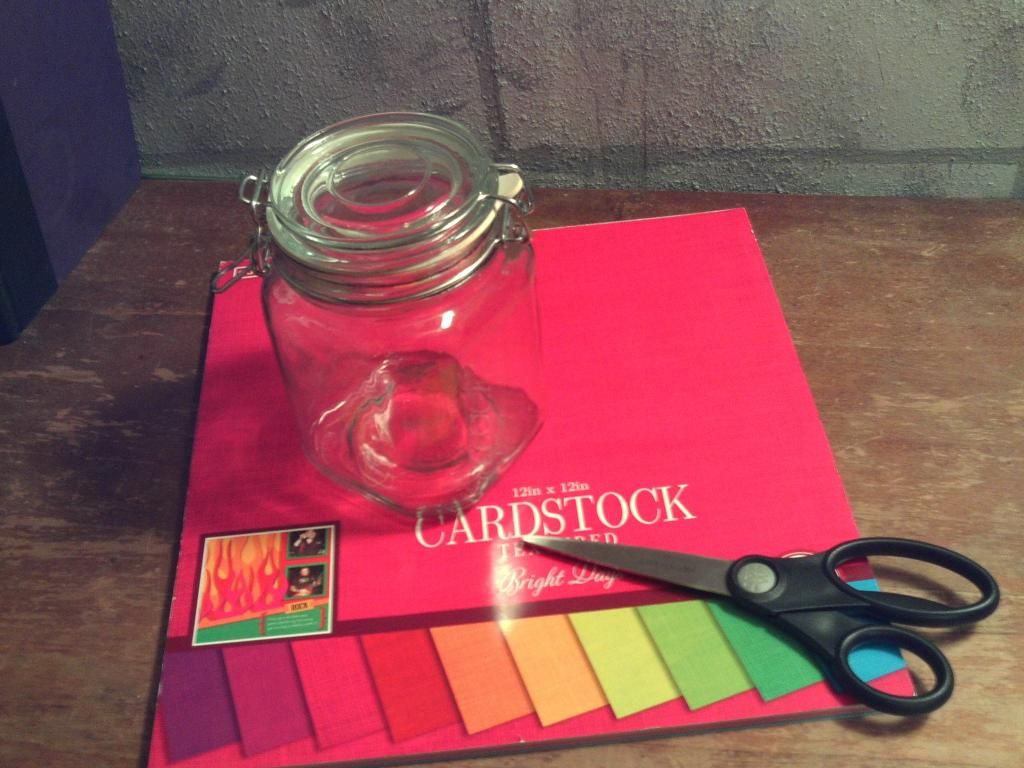 You can probably find all these things around your house - printer paper and old pickle jars, for example. Because I wanted a little color and snazz to my jar, I bought colored card stock paper and a glass storage jar from Walmart, for just a little over ten bucks.
I've been watching this in the book blogging world for almost a year now. I loved this idea, but didn't understand how it could work for me. See, I'm a mood reader. 'Ooh, this books sounds good' is how I usually chose what to read next. However, at the beginning of this month I had a major block when it came to what book I wanted to read. I knew I wanted to read something but I just couldn't decide what. Out of desperation I've decided to give this a go - in the hopes that March won't be as painful. I'm not fully convinced this will work, which is why I called it an experiment.
So, I spent way too long measuring (can't have different sizes, after all) and cutting the colored cardstock paper that I bought specifically for this. Then I wrote down all my books, color-coding my genres.
Like Bookish Confetti
Fantasy - Green
Sci-Fi - Yellow
Historical - Blue (including AU)
Romance - Purple
Contemporary - Red
Mis - Pink (For anything I forgot)
Audio/Kindle - Orange (probably will be reduced to just audio after I get acclimated to my kindle.)
Then I carefully folded them, dumped them into my awesome glass canister, and worked up some basic guidelines.
The rules will be thus:
At the beginning of the month, I'll decide how many books I want to read and follow these rules:
If I want to read six books, I can draw four of them out - eyes closed or ignoring the color - and open them.
Then I draw out two more with my eyes open - probably wanting a specific genre.
If I absolutely cannot read one of these books, I am allowed to re-draw only once.
I can chose one book from the drawing, re-draw and must read that one.
If I have certain books I want/need to read for the month, I subtract that from how many I initially draw.
I don't have to read these books in a specific order, but that's what I read for the month.
I decided that this would give me some structure - instead of staring at all my books going 'I have nothing to read' - but also allow me enough of a choice to allow for what I feel like reading.
I'm really excited to put this into effect for March and very curious as to how this will work for me.
Do you use a TBR jar? If not, why not? How does it work for you? Do you have any special rules for it? I'd love to hear your thoughts on this.