Top Ten Tuesday is an original feature/weekly meme created at The Broke and the Bookish.
What is recent? Seriously once I quit celebrating the idea of getting to share with you some of the awesome books I've been reading, that's the question that came to my mind. I've decided to include a few of those books I read really late last year, because I love them but they've not been able to get on any list or even my end-of-year post thing-y.
What I did was go through Goodreads and listed every book I'd rated five stars since the end of December. Then I was left wondering what is this madness of having to narrow that down to ten. Finally, I managed to do just that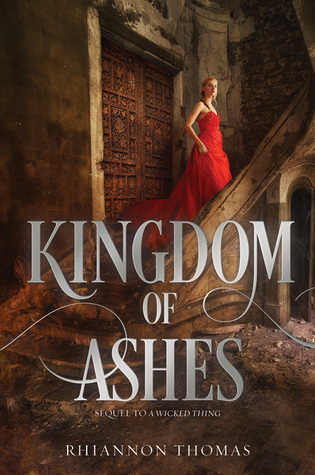 Kingdom of Ashes by Rhiannon Thomas
Sequel to A Wicked Thing
Asleep for a hundred years, awoken by a kiss. Aurora's life was supposed to be a fairytale.
But since discovering that loyalty to the crown and loyalty to her country are two very different things, Aurora knows she can only dream of happily ever after. Once the enchanted princess, savior of her people, she is now branded a traitor.
Aurora is determined to free her home from the king's tyrannical rule, even if it means traveling across the sea to the kingdom of the handsome and devious Prince Finnegan—someone who seems to know far more about her magic than he should. However, Finnegan's kingdom has perils of its own, and any help he gives Aurora will come at a price.
As Aurora and Finnegan work together to harness her power—something so fiery and dangerous that is as likely to destroy those close to Aurora as it is to save them—she begins to unravel the mysteries surrounding the curse that was placed on her over a century before…and uncover the truth about the destiny she was always meant to fulfill.
Brimming with captivating fantasy and life-threatening danger, the sequel to A Wicked Thing takes Sleeping Beauty on an adventure unlike any she's ever had before.
Notes: You had to know it would be on here! You just had to. :) This is one of the most beautiful retellings ever and I simply LOVE everything about it!
Earth Girl by Janet Edwards
Jarra is stuck on Earth while the rest of humanity portals around the universe. But can she prove to the norms that she's more than just an Earth Girl?
2788. Only the handicapped live on Earth. While everyone else portals between worlds, 18-year-old Jarra is among the one in a thousand people born with an immune system that cannot survive on other planets. Sent to Earth at birth to save her life, she has been abandoned by her parents. She can't travel to other worlds, but she can watch their vids, and she knows all the jokes they make. She's an 'ape', a 'throwback', but this is one ape girl who won't give in.
Jarra invents a fake background for herself – as a normal child of Military parents – and joins a class of norms that is on Earth to excavate the ruins of the old cities. When an ancient skyscraper collapses, burying another research team, Jarra's role in their rescue puts her in the spotlight. No hiding at back of class now. To make life more complicated, she finds herself falling in love with one of her classmates – a norm from another planet. Somehow, she has to keep the deception going.
A freak solar storm strikes the atmosphere, and the class is ordered to portal off-world for safety – no problem for a real child of military parents, but fatal for Jarra. The storm is so bad that the crews of the orbiting solar arrays have to escape to planet below: the first landing from space in 600 years. And one is on collision course with their shelter.
Notes: I am so sad that I read this book too late last year for it - or the author - to make any of my lists. This book was totally unexpected but so great.
Air Awakens by Elise Kova
A library apprentice, a sorcerer prince, and an unbreakable magic bond...
The Solaris Empire is one conquest away from uniting the continent, and the rare elemental magic sleeping in seventeen-year-old library apprentice Vhalla Yarl could shift the tides of war.
Vhalla has always been taught to fear the Tower of Sorcerers, a mysterious magic society, and has been happy in her quiet world of books. But after she unknowingly saves the life of one of the most powerful sorcerers of them all—the Crown Prince Aldrik—she finds herself enticed into his world. Now she must decide her future: Embrace her sorcery and leave the life she's known, or eradicate her magic and remain as she's always been. And with powerful forces lurking in the shadows, Vhalla's indecision could cost her more than she ever imagined.
Notes: Hello, gorgeous book. You're so quiet and unassuming then *blam* you hit me with all that in the last fifty or so pages. Let's just say, I never expected this book to be as wonderful as it is.
The Ace of Skulls by Chris Wooding
Third sequel to Retribution Falls
All good things come to an end. And this is it: the last stand of the Ketty Jay and her intrepid crew.
They've been shot down, set up, double-crossed and ripped off. They've stolen priceless treasures, destroyed a ten-thousand-year-old Azryx city and sort-of-accidentally blew up the son of the Archduke. Now they've gone and started a civil war. This time, they're really in trouble.
As Vardia descends into chaos, Captain Frey is doing his best to keep his crew out of it. He's got his mind on other things, not least the fate of Trinica Dracken. But wars have a way of dragging people in, and sooner or later they're going to have to pick a side. It's a choice they'll be staking their lives on. Cities fall and daemons rise. Old secrets are uncovered and new threats revealed.
When the smoke clears, who will be left standing?
Notes: Perfect ending. I've watched these characters grow and develop over the course of four books and I simply cannot imagine a better ending for the series. (Now we just need some sequels!)
Manners & Mutiny by Gail Carriger
Third sequel to Etiquette & Espionage
If one must flirt…flirt with danger.
Lessons in the art of espionage aboard Mademoiselle Geraldine's floating dirigible have become tedious without Sophronia's sweet sootie Soap nearby. She would much rather be using her skills to thwart the dastardly Picklemen, yet her concerns about their wicked intentions are ignored, and now she's not sure whom to trust. What does the brusque werewolf dewan know? On whose side is the ever-stylish vampire Lord Akeldama? Only one thing is certain: a large-scale plot is under way, and when it comes to fruition, Sophronia must be ready to save her friends, her school, and all of London from disaster—in decidedly dramatic fashion, of course.
What will become of our proper young heroine when she puts her years of training to the test? Find out in this highly anticipated and thrilling conclusion to the New York Times bestselling Finishing School series!
Notes: I've heard it said that you should leave them wanting more. Well, I certainly still want more from this wonderful series. Though, this was a stellar ending for it, so no complaints there. :)
Decrypted by Lindsay Buroker
Sequel to Encrypted
Professor Tikaya Komitopis knew that bringing Admiral Rias Starcrest home to meet her family wouldn't be easy, not when he led the fleet that decimated her nation during the war. She isn't surprised when people believe she's been brainwashed, that Rias is still loyal to the empire, and that he has nefarious plans for her homeland. She is, however, surprised when Rias's designs to build a submarine lead them to stumble across an ancient secret shrouded in mystery, time, and lies.
If revealed, this secret could mean devastation for Tikaya's entire nation. It could also mean choosing between her people... and the man she loves.
Decrypted is the sequel to Encrypted and is loosely tied in with the author's "Emperor's Edge" series.
Notes: Quite nearly everything I could have hoped/wished for from this book. And, somehow, Tikaya isn't as annoying as she usually is. Win-win situation here!
Beauty & the Beast by K.M. Shea
Once upon a time Elle made a mistake. A small miscalculation sends her through the roof of an enchanted chateau. Stranded until her broken leg mends, Elle is unwillingly forced to rely on the good will of the sour chateau owner —the cursed Prince Severin.
Prince Severin—the commanding general and staunch supporter of his brother the crown prince—is cursed to look like a beast until a maiden falls in love with him. He has given up all hope of shattering the curse, and has only disdain for Elle.
Unfortunately, the pair can't seem to avoid each other thanks to the meddling of the chateau's cursed servants. Eventually Elle's playful manners and Severin's hidden gentleness draw the pair together.
But not all love stories can end that easily. After all, Elle is not what she seems, and Severin's life is placed in danger when hostilities flare between his brother and the monarchs of a neighboring country. When Elle risks everything to save Severin, will he be able to forgive her for her lies?
Notes: This is definitely one of my favorite (if not my favorite) B&B retellings. It's so lighthearted and fun and I love all the characters so, so much!
The Web of Titan by Dom Testa
Sequel to The Comet's Curse
When the tail of the comet Bhaktul flicks through the Earth's atmosphere, deadly particles are left in its wake, and mankind is confronted with a virus that devastates the adult population. A renowned scientist proposes a bold plan: to build a ship that will carry a crew of 251 teenagers to a home in a distant solar system. Two years later,Galahad and its crew is launched. If their mission fails, it will be the end of the human race…
After triumphing over a saboteur bent on destroying Galahad, Triana and her Council are eager to avoid any further complications. But as Galahad swings around the ringed planet Saturn, they encounter a mysterious metal pod orbiting the moon of Titan. The teens prepare to bring the pod and its contents aboard, only to be faced with a another crisis: an illness that is beyond their medical experience. Dozens of crew members fall into a comatose state, only to awaken with strangely glowing eyes. To make matters worse, the systems of Galahad begin to fail. With time running out, can Triana and her shipmates escape the Web of Titan?
Notes: This book is just a bit better than the first so I simply cannot wait to see where the third book goes. I just adore the people, the world building and the plot.
The Dreamer's Curse by Honor Raconteur
Sequel to The Child Prince
With an un-cursed prince and king back on the throne, Sevana goes back to her usual routine without worry. But her peaceful days don't last for long. A hunter from a small northern village comes to her, pleading for help. The people in his village are disappearing during the night, transported great distances in their sleep, and they don't know why.
Transportation magic such as this hasn't been seen since the days of great magic, hundreds of years past. On top of that, the power levels that Sevana sees are insanely high—far higher than any modern magic can reach. Sevana drops everything, racing toward the small village of Chastain, praying that she can find the source for all of this and stop it.
Otherwise, the magical backlash might destroy Windamere.
Notes: Sevana is so incredibly awesome! Honestly, I think she's one of my favorite characters. And the rest of the recurring cast is pretty great, too.
Pandora Hearts, Vol. 5 by Jun Mochizuki
Fifth in the Pandora Hearts series of manga
Guided by Jack Vessalius, the man from Alice's memories, Oz wanders back into the world of lost memories in search of Alice. There, he stumbles upon the devastating tragedy of Sablier, the century-old disaster which sent the old capital into the Abyss, an incident of which no one has any recollection...except Alice, who was there?! When Oz discovers the truth of the memories Alice so desperately wants to forget, the powers of the B-Rabbit will spiral out of control and threaten the lives of all who are trapped within the dreamlike dimension, including Alice herself...
Notes: And to finish up this list, I thought it appropriate to list the last volume that I've read of what is very quickly becoming my favorite manga series. Everything about it is just so wonderful and I simply cannot wait to get to the stuff that was never covered in the anime!
And that's a wrap! I seriously love all these books and if you haven't read them, do yourself a favor and read them. Or the first book in the series. Ya know, whatever works. If you have read them, tell me what you think so we can fawn over them. Or so I can convince - try to, anyway - you to come around to my way of thinking.