Top Ten Tuesday is an original feature/weekly meme created at The Broke and the Bookish.
There are some totally stellar sounding books coming out in the early part of next year, and I can hardly wait for some of them.
February Releases
Empress of a Thousand Skies by Rhoda Belleza
Empress
Rhee, better known as Crown Princess Rhiannon Ta'an, is the sole surviving heir to a powerful dynasty. She'll stop at nothing to avenge her family and claim her throne.
Fugitive
Aly has risen above his war refugee origins to find fame as the dashing star of a holo-vision show. But when he's falsely accused of killing Rhee, he's forced to prove his innocence to save his reputation – and his life.
Madman
With planets on the brink of war, Rhee and Aly are thrown together to confront a ruthless evil that threatens the fate of the entire galaxy.
***
Rhoda Belleza crafts a powerful saga of vengeance, warfare, and the true meaning of legacy in her exhilarating debut, perfect for fans of Marissa Meyer and Pierce Brown.
The Dragon's Price by Bethany Wiggins
Fans of Julie Kagawa's Talon and Renee Ahdieh's The Wrath and the Dawn will devour this action-packed fantasy adventure about a girl who chooses to surrender herself to a deadly dragon rather than marry an enemy prince.
When two warring kingdoms unified against a deadly menace laying waste to both their lands, they had to make a choice: vow to marry their heirs to one another, or forfeit their lives to the dragon.
Centuries later, everyone expects the sheltered princess Sorrowlynn to choose the barbarian prince over the fire-breathing beast—everyone, that is, except Sorrow, who is determined to control her own destiny or die trying.
As she is lowered into the dragon's chamber, she assumes her life is over until Golmarr, the young prince she just spurned, follows her with the hopes of being her hero and slaying the dragon. But the dragon has a different plan. . . .
If the dragon wins, it will be freed from the spell that has bound it to the cave for centuries. If Sorrow or Golmarr vanquish the dragon, the victor will gain its treasure and escape the cave beneath the mountain. But what exactly is the dragon hiding?
There are no safe havens for Sorrow or Golmarr—not even with each other—and the stakes couldn't be higher as they risk everything to protect their kingdom.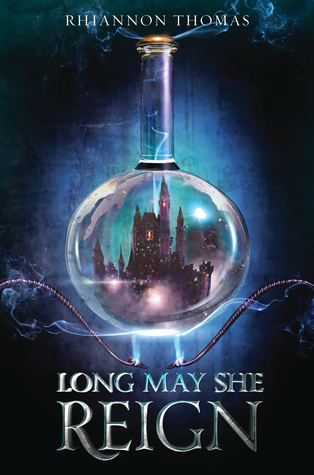 Long May She Reign by Rhiannon Thomas
The Girl of Fire and Thorns meets The Queen of the Tearling in this thrilling fantasy standalone about one girl's unexpected rise to power.
Freya was never meant be queen. Twenty third in line to the throne, she never dreamed of a life in the palace, and would much rather research in her laboratory than participate in the intrigues of court. However, when an extravagant banquet turns deadly and the king and those closest to him are poisoned, Freya suddenly finds herself on the throne.
Freya may have escaped the massacre, but she is far from safe. The nobles don't respect her, her councillors want to control her, and with the mystery of who killed the king still unsolved, Freya knows that a single mistake could cost her the kingdom – and her life.
Freya is determined to survive, and that means uncovering the murderers herself. Until then, she can't trust anyone. Not her advisors. Not the king's dashing and enigmatic illegitimate son. Not even her own father, who always wanted the best for her, but also wanted more power for himself.
As Freya's enemies close in and her loyalties are tested, she must decide if she is ready to rule and, if so, how far she is willing to go to keep the crown.
Daughter of the Pirate King by Tricia Levenseller
A 17-year-old pirate captain intentionally allows herself to get captured by enemy pirates in this thrilling YA adventure.
If you want something done right . . .
When the ruthless pirate king learns of a legendary treasure map hidden on an enemy ship, his daughter, Alosa, knows there's only one pirate for the job—herself. Leaving behind her beloved ship and crew, Alosa deliberately facilitates her own kidnapping to ensure her passage on the ship, confident in her ability to overcome any obstacle. After all, who's going to suspect a seventeen-year-old girl locked in a cell? Then she meets the (surprisingly perceptive and unfairly attractive) first mate, Riden, who is charged with finding out all her secrets. Now it's down to a battle of wits and will . . . . Can Alosa find the map and escape before Riden figures out her plan?
Debut author Tricia Levenseller blends action, adventure, romance, and a little bit of magic into a thrilling YA pirate tale.
Shadow Run by AdriAnne Strickland & Michael Miller
"Firefly" meets DUNE in this action-packed sci-fi adventure about a close-knit, found family of a crew navigating a galaxy of political intrigue and resource-driven power games.
Nev has just joined the crew of the starship Kaitan Heritage as the cargo loader. His captain, Qole, is the youngest-ever person to command her own ship, but she brooks no argument from her crew of orphans, fugitives, and con men. Nev can't resist her, even if her ship is an antique.
As for Nev, he's a prince, in hiding on the ship. He believes Qole holds the key to changing galactic civilization, and when her cooperation proves difficult to obtain, Nev resolves to get her to his home planet by any means necessary.
But before they know it, a rival royal family is after Qole too, and they're more interested in stealing her abilities than in keeping her alive.
Nev's mission to manipulate Qole becomes one to save her, and to survive, she'll have to trust her would-be kidnapper. He may be royalty, but Qole is discovering a deep reservoir of power—and stars have mercy on whoever tries to hurt her ship or her crew.
April Releases
Defy the Stars by Claudia Grey
In her most epic and ambitious work to date, bestselling author Claudia Gray takes readers on an interstellar journey exploring what it means to be human.
Noemi Vidal is a teen soldier from the planet Genesis, once a colony of Earth that's now at war for its independence. The humans of Genesis have fought Earth's robotic "mech" armies for decades with no end in sight.
After a surprise attack, Noemi finds herself stranded in space on an abandoned ship where she meets Abel, the most sophisticated mech prototype ever made. One who should be her enemy. But Abel's programming forces him to obey Noemi as his commander, which means he has to help her save Genesis--even though her plan to win the war will kill him.
Together they embark on a daring voyage through the galaxy. Before long, Noemi begins to realize Abel may be more than a machine, and, for his part, Abel's devotion to Noemi is no longer just a matter of programming.
May Releases
The Black Witch by Laurie Forest
A Great Winged One will soon arise and cast his fearsome shadow upon the land. And just as Night slays Day, and Day slays Night, so also shall another Black Witch rise to meet him, her powers vast beyond imagining.
So foretells the greatest prophecy of the Gardnerian mages. Carnissa Gardner, the last prophesied Black Witch, drove back the enemy forces and saved her people during the Realm War. Now a new evil is on the horizon, and her granddaughter, Elloren, is believed to be Carnissa's heir—but while she is the absolute image of her famous grandmother, Elloren is utterly devoid of power in a society that prizes magical ability above nearly all else.
When she is granted the opportunity to pursue her lifelong dream of becoming an apothecary, Elloren is eager to join her brothers at the prestigious Verpax University and finally embrace a destiny of her own, free from the shadow of her grandmother's legacy. But she soon realizes that the University, which admits all manner of peoples—including the fire-wielding, winged Icarals, the sworn enemies of her people—is an even more treacherous place for the granddaughter of the Black Witch.
The Love Interest by Cale Deitrich
There is a secret organization that cultivates teenage spies. The agents are called Love Interests because getting close to people destined for great power means getting valuable secrets.
Caden is a Nice: The boy next door, sculpted to physical perfection. Dylan is a Bad: The brooding, dark-souled guy, and dangerously handsome. The girl they are competing for is important to the organization, and each boy will pursue her. Will she choose a Nice or the Bad?
Both Caden and Dylan are living in the outside world for the first time. They are well-trained and at the top of their games. They have to be – whoever the girl doesn't choose will die.
What the boys don't expect are feelings that are outside of their training. Feelings that could kill them both.
June Releases
Royal Bastards by Andrew Shvarts
Being a bastard blows. Tilla would know. Her father, Lord Kent of the Western Province, loved her as a child, but cast her aside as soon as he had trueborn children.
At sixteen, Tilla spends her days exploring long-forgotten tunnels beneath the castle with her stablehand half brother, Jax, and her nights drinking with the servants, passing out on Jax's floor while her castle bedroom collects dust. Tilla secretly longs to sit by her father's side, resplendent in a sparkling gown, enjoying feasts with the rest of the family. Instead, she sits with the other bastards, like Miles of House Hampstedt, an awkward scholar who's been in love with Tilla since they were children.
Then, at a feast honoring the visiting princess Lyriana, the royal shocks everyone by choosing to sit at the Bastards' Table. Before she knows it, Tilla is leading the sheltered princess on a late-night escapade. Along with Jax, Miles, and fellow bastard Zell, a Zitochi warrior from the north, they stumble upon a crime they were never meant to witness.
Rebellion is brewing in the west, and a brutal coup leaves Lyriana's uncle, the Royal Archmagus, dead—with Lyriana next on the list. The group flees for their lives, relentlessly pursued by murderous mercenaries; their own parents have put a price on their heads to prevent the king and his powerful Royal Mages from discovering their treachery.
The bastards band together, realizing they alone have the power to prevent a civil war that will tear their kingdom apart—if they can warn the king in time. And if they can survive the journey...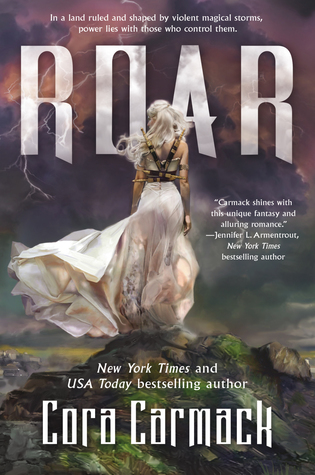 Roar by Cora Carmack
In a land ruled and shaped by violent magical storms, power lies with those who control them.
Aurora Pavan comes from one of the oldest Stormling families in existence. Long ago, the ungifted pledged fealty and service to her family in exchange for safe haven, and a kingdom was carved out from the wildlands and sustained by magic capable of repelling the world's deadliest foes. As the sole heir of Pavan, Aurora's been groomed to be the perfect queen. She's intelligent and brave and honorable. But she's yet to show any trace of the magic she'll need to protect her people.
To keep her secret and save her crown, Aurora's mother arranges for her to marry a dark and brooding Stormling prince from another kingdom. At first, the prince seems like the perfect solution to all her problems. He'll guarantee her spot as the next queen and be the champion her people need to remain safe. But the more secrets Aurora uncovers about him, the more a future with him frightens her. When she dons a disguise and sneaks out of the palace one night to spy on him, she stumbles upon a black market dealing in the very thing she lacks—storm magic. And the people selling it? They're not Stormlings. They're storm hunters.
Legend says that her ancestors first gained their magic by facing a storm and stealing part of its essence. And when a handsome young storm hunter reveals he was born without magic, but possesses it now, Aurora realizes there's a third option for her future besides ruin or marriage.
She might not have magic now, but she can steal it if she's brave enough.
Challenge a tempest. Survive it. And you become its master.
There are some awesome sounding books coming out next year, huh? Are you interested in any of these? Which books are you most excited for 2017?