There are so many new books coming out this year that sound so good - so, I have decided to have a little post at the beginning of each month where I can talk about the books that release soon that interest me.
I've got a bunch of books that come out this month that sound so good.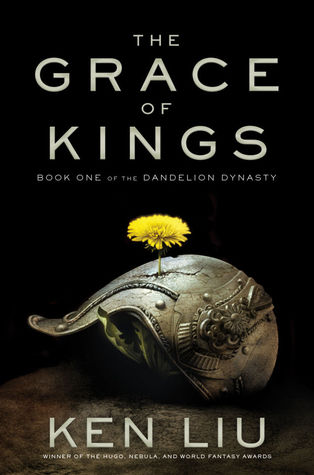 The Grace of Kings
The Dandelion Dynasty book one
by Ken Liu
Releases: April 7th
Wily, charming Kuni Garu, a bandit, and stern, fearless Mata Zyndu, the son of a deposed duke, seem like polar opposites. Yet, in the uprising against the emperor, the two quickly become the best of friends after a series of adventures fighting against vast conscripted armies, silk-draped airships, soaring battle kites, conspiring goddesses, underwater boats, magical books, as a streetfighter-cum-general who takes her place as the greatest tactitian of the age. Once the emperor has been overthrown, however, they each find themselves the leader of separate factions—two sides with very different ideas about how the world should be run and the meaning of justice.
Beyond the fact that I love the whole 'friends to enemies' dynamic, this sounds a bit like asian steampunk. I am so there.
---
The Wondrous and the Wicked
The Dispossessed book three
by Page Morgan
Releases: April 14th
For fans of Lauren Kate's Fallen series comes the exciting conclusion to the trilogy that includes The Beautiful and the Cursed and The Lovely and the Lost. The Waverly sisters must save themselves before all is lost.
Since the Waverlys arrived in Paris, the streets have grown more fearsome by the day. As Ingrid learns to master her lectrux gift, she must watch Axia's power grow strong enough to extend beyond her Underneath hive. By all indications, the fallen angel's Harvest is near-and the timing couldn't be worse.
Targeted by vengeful gargoyles, Gabby has been exiled to London for her own protection. Meanwhile, the gargoyle castes are in disarray, divided between those who want Luc to lead them and those who resent him and his fondness for humans. The Alliance is crumbling from the inside as well, its members turning against one another, and possibly against the Waverlys, too.
Axia has promised that the world will burn. And now, unable to trust the Alliance, separated from Luc, Gabby, and her twin, Grayson, Ingrid is left to face the demon uprising alone.
I really enjoy this series and I cannot wait to see how it ends. I seriously recommend this series if you're looking for a urban fantasy/historical hybrid.
---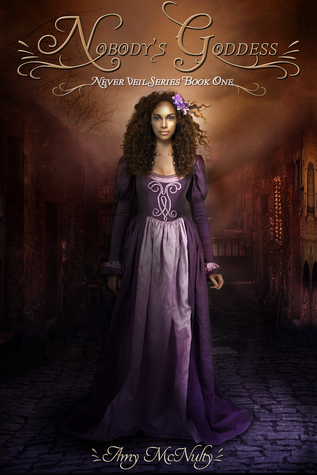 The Never Veil book one
by Amy McKnulty
Releases: April 21st
In a village of masked men, magic compels each man to love only one woman and to follow the commands of his "goddess" without question. A woman may reject the only man who will love her if she pleases, but she will be alone forever. And a man must stay masked until his goddess returns his love—and if she can't or won't, he remains masked forever.
Seventeen-year-old Noll isn't in the mood to celebrate. Her childhood friends have paired off and her closest companion, Jurij, found his goddess in Noll's own sister. Desperate to find a way to break this ancient spell, Noll instead discovers why no man has ever chosen her.
Thus begins a dangerous game between the choice of woman versus the magic of man. And the stakes are no less than freedom and happiness, life and death—and neither is willing to lose.
This sounds awesome. I love the idea behind the masks and the 'one love'. It sounds to me like a very interesting take on gender as well. (And yay for diversity and not whitewashing the cover.)
---
Becoming Jinn book one
by Lori Goldstein
Releases: April 21st
Forget everything you thought you knew about genies!
Azra has just turned sixteen, and overnight her body lengthens, her olive skin deepens, and her eyes glisten gold thanks to the brand-new silver bangle that locks around her wrist. As she always knew it would, her Jinn ancestry brings not just magical powers but the reality of a life of servitude, as her wish granting is controlled by a remote ruling class of Jinn known as the Afrit.
To the humans she lives among, she's just the girl working at the snack bar at the beach, navigating the fryer and her first crush. But behind closed doors, she's learning how to harness her powers and fulfill the obligations of her destiny.
Mentored by her mother and her Zar "sisters", Azra discovers she may not be quite like the rest of her circle of female Jinn . . . and that her powers could endanger them all. As Azra uncovers the darker world of becoming Jinn, she realizes when genies and wishes are involved, there's always a trick.
Any book that mentions Afrit (or, Efreet) has immediately caught my attention. I love the cover too, so that's always a bonus. I've never come across many books that use Middle-Eastern mythology as their basis, so I'm really excited.
---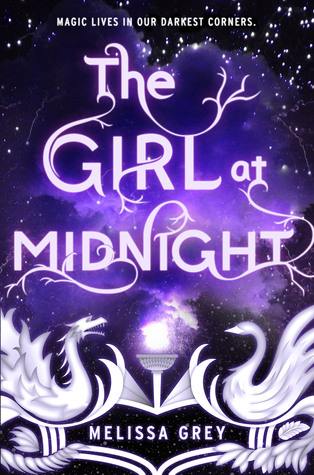 The Girl at Midnight book one
by Melissa Grey
Releases: April 28th
For readers of Cassandra Clare's City of Bones and Leigh Bardugo's Shadow and Bone, The Girl at Midnight is the story of a modern girl caught in an ancient war.
Beneath the streets of New York City live the Avicen, an ancient race of people with feathers for hair and magic running through their veins. Age-old enchantments keep them hidden from humans. All but one. Echo is a runaway pickpocket who survives by selling stolen treasures on the black market, and the Avicen are the only family she's ever known.
Echo is clever and daring, and at times she can be brash, but above all else she's fiercely loyal. So when a centuries-old war crests on the borders of her home, she decides it's time to act.
Legend has it that there is a way to end the conflict once and for all: find the Firebird, a mythical entity believed to possess power the likes of which the world has never seen. It will be no easy task, but if life as a thief has taught Echo anything, it's how to hunt down what she wants . . . and how to take it.
But some jobs aren't as straightforward as they seem. And this one might just set the world on fire.
I have severely mixed feelings about this book - like feeling that it totally isn't for me - but I spotted the words 'beneath the streets of New York City' and kind of wanted it right then.
---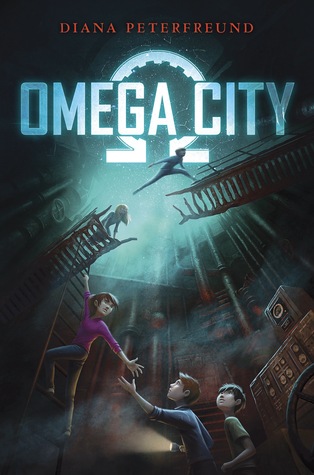 Omega City book one
by Diana Peterfreund
Releases: April 28th
The first middle grade novel in an exciting new series from acclaimed author Diana Peterfreund, perfect for fans of The Goonies and The City of Ember.
Gillian Seagret doesn't listen to people who say her father's a crackpot. His conspiracy theories about the lost technology of Cold War–era rocket scientist Dr. Aloysius Underberg may have cost him his job and forced them to move to the middle of nowhere, but Gillian knows he's right and plans to prove it.
When she discovers a missing page from Dr. Underberg's diary in her father's mess of an office, she thinks she's found a big piece of the puzzle—a space-themed riddle promising to lead to Dr. Underberg's greatest invention. Enlisting the help of her skeptical younger brother, Eric, her best friend, Savannah, and Howard, their NASA-obsessed schoolmate, Gillian sets off on a journey into the ruins of Omega City, a vast doomsday bunker deep inside the earth,.
But they aren't alone inside its dark and flooded halls. For while Gillian wants to save her dad's reputation by bringing Dr. Underberg's secrets to light, there are others who will stop at nothing to make sure they stay buried . . . forever.
Uhm... 'lost technology,' 'Cold War-era rocket scientist,' 'space-themed riddle,' 'doomsday bunker'. Do I really have to explain why I want this book?
What books are you interested in this month?