I've been recently scouring the internet (and my own saved bookmarks) looking for fun new things to do on this blog. What have I found? Book tags! One of the very cool ones I've found (over at
Books, Biscuits & Tea
) is Rainbow Spines Book Tag. While it's really a youtube/vlog thing, all I've got is the cheap webcam that came with my computer and no desire to see myself in a video.
The goal is to go through your shelves and grab a book for each color of the rainbow. Simple. At least is theory. For me, the most difficult was finding an indigo book. The first one I grabbed looked way too much like my violet book. I also wanted to actually like each book - so all of these are rated three stars or higher. (I wanted to put links, but my link color is a seafoam green that really made this list ugly.)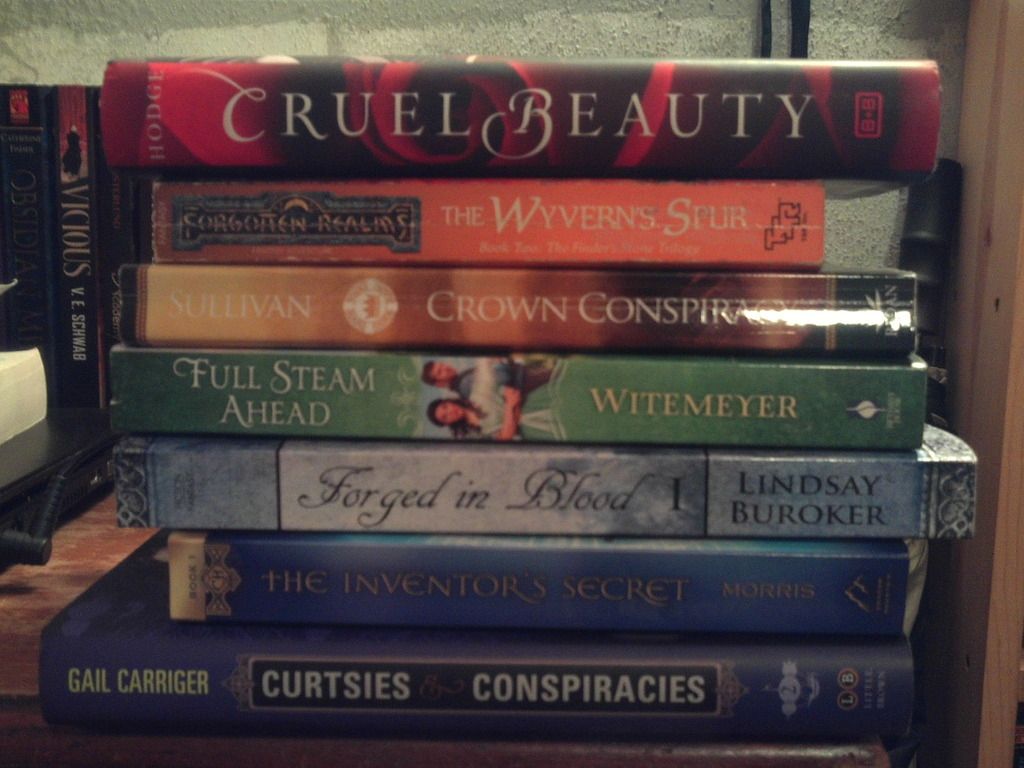 Cruel Beauty by Rosamund Hodge
As soon as I decided to do this, I knew what my 'red' book would be. (Like I had so much to chose from.) Anyway, this is an awesome retelling of Beauty and the Beast that's heavy on mythology. It's kind of a gothic story and it's one of my absolute favorite retellings ever.
The Wyvern's Spur by Kate Novak and Jeff Grubb
I couldn't believe that I actually had choices for an 'orange' book. I chose this one because...because I love the book. These type of books are what got me into fantasy originally and I will always look at them favorably.
The Crown Conspiracy by Michael J. Sullivan
I feel so accomplished for having a book by my favorite author on this list. But, seriously, I don't read yellow books, apparently, because the only other ones I could find were books in a series that I already had chosen for this list. If you like fantasy that doesn't get bogged down by world building, a pair of thieves so completely opposite but the best of friends and general awesomeness, read this book. (Right, twisting your arm over.)
Full Steam Ahead by Karen Witemeyer
For how much I love green (favorite color) I was really disappointed in how few green spines I saw on my shelves. Of those, this one was probably my favorite. It's a Christian Historical Romance and, while I did enjoy it, there was a plot that I wish had been fleshed out much more.
Forged in Blood I by Lindsay Buroker
Another favorite author that I was so happy made this list. This is the penultimate book (besides the epilogue of sorts) in a very fun fantasy set in a world that is slowly being industrialized. There are steam gadgetry and I just love this series so much.
The Inventor's Secret by Chad Morris
This was the difficult book for me to find. To me, 'indigo' is darker than this, but any darker and it looks like my 'violet' book. Anyway, this is a great middle grade sci-fi story about a brother and sister that go to the coolest school ever. Everything is virtual, they can actually be put into the middle of holographic history and study animals by controlling an avatar.
Curtsies & Conspiracies by Gail Carriger
Steampunk + Spy School + Ms. Carriger's Wonderful Wit (TM) = a series Amy loves. Seriously though, I am so glad I had this book on my shelf because I don't think I have anything else even passably purple.
Well, that was fun. And colorful. Anyway, if you're interested in doing this, consider yourself tagged.