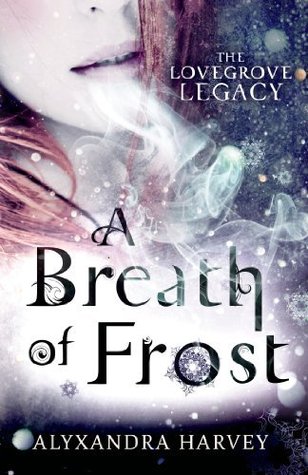 A Breath of Frost by Alyxandra Harvey
Series:
The Lovegrove Legacy book 1
Genre:
Historical/Urban Fantasy (YA)
Add on Goodreads
In 1814, three cousins—Gretchen, Emma, and Penelope—discover their family lineage of witchcraft when a binding spell is broken, allowing their individual magical powers to manifest. Now, beyond the manicured gardens and ballrooms of Regency London, an alluring underworld available only to those with power is revealed to the cousins. By claiming their power, the three cousins have accidentally opened the gates to the underworld.

Now ghouls, hellhounds—and most terrifying of all, the spirits of dark witches known as the Greymalkin Sisters—are hunting and killing young debutante witches for their powers. And, somehow, Emma is connected to the murders…because she keeps finding the bodies.

Can the cousins seal the gates before another witch is killed…or even worse, before their new gifts are stripped away? (from goodreads)
"I don't like that term," another student frowned at her. "We shouldn't call one another names."
This is a sweet little book.
Okay, so maybe the fact that debutants are being killed, their bodies unnaturally frozen, with Emma finding them, isn't so sweet, but this is about girl power. Not in the sense of girls going out in tight leather and kicking butt. Nope. This is girl power, in the sense of friendship - and girls being great regardless of if they prefer embroidery or sword fighting.
Try this truncated conversation:
"He called me fat."
(Penelope)
"Think how embarrassed he'll be when I wrap his smalls around his fat head."
(Emma in response.)
"I hope he wakes up swollen like a balloon."
(Gretchen in response.)
Sadly, it's not often that I come across a book with girls that are so tightly knit as these three cousins are. That just makes it all the more awesome when I do. These girls would do anything for each other and the other girls at the academy are pretty awesome too. Sure, you've got the typical 'mean girl' - but even she seems mild compared to the way girls like this usually behave. I can't help but think that this book is about friendship first and foremost.
"I can't let you risk yourself for me," she murmured.
He narrowed his eyes. "And if I said those words to you?"
She wrinkled her nose. "I'd kick you," she admitted.
"And as I can't kick you," he returned, brushing his mouth along the side of her neck until she shivered, "I'll have to get my vengeance another way."
There's romance in this book. At first I was like 'noooooo' - but then I got to deal with Cormac a little more. I got to listen to him talking to Emma. He's not what he first appears. I thought he was a typical jerkass/badboy young man for the girls to swoon over. Instead, he is a character with depth and conviction and he's not pushing Emma away (well, originally trying to anyway) for no good reason - and it doesn't take him long to realize there's really no reason to push her way. Interestingly enough, he never proclaims that he's doing it all for her. And I really don't think he was.
"Why should you imagine I would think less of you because of something you have no control over?"
I gotta admit, I love Emma and Cormac together. While the other two cousins dot get romance in this book, the second in the series is Gretchen's story and I imagine the third will be Penelope's.
As I tell you have much I love the characters, are you wondering about the plot. Yeah, so was I to be honest. If the plot would have been a bit tighter, I think this would have probably gotten five stars from me. As it was, just that little bit was missing. The mystery was somewhat obvious after a certain point. I tried to not think about it much, but during one conversation I went 'oh no - please tell me I'm wrong'. Yeah… About that. I wasn't. So, if you're wanting a deep mystery you might be a bit disappointed.
I recommend this book highly if you want a character rather than plot driven story - rather, don't mind a story whose plot is a little weak - and/or want to read about a solid friendship between three girls and a sweet romance.