Top Ten Tuesday is an original feature/weekly meme created at The Broke and the Bookish.
This is, I believe, actually going to be a little embarrassing. I always talk about how I'm such a fantasy reader, but this is still fairly new. I've only been reading fantasy for about ten years - prior to that was when I was reading almost exclusively mystery. And a lot of my favorite fantasy authors don't have more that six or seven books published so... Not embarrassing, I've changed my mind about that. But this this isn't exactly an indication of what I'm currently reading. (Okay, so as I was making up this list, I decided to make this a little more strict. Not only do I own all these books - but I can actually find them.)
Top Ten Authors I Own The Most Books By
Agatha Christie
Books Owned: 65
First Book Read: Murder on the Orient Express
I first started reading her books when I borrowed a few from the library, then I started buying them from used bookstores. I knew I had a lot, all floating around somewhere, (mostly packed away in boxes, but I can find them) I just never expected this many.
Elizabeth Peters
Books Owned: 31
First Book Read: The Last Camel Died At Noon
There are some authors whose books you fall in love with the first time you read them. For me, this is one such author. I found this book at a used bookstore and saw Egypt and thought 'why not?' Thirty books later, I still love the author's work and this series especially.
Emily Brightwell
Books Owned: 18
First Book Read: The Inspector and Mrs. Jeffries
One of the funnest mystery series I've ever read. This whole series is about house servants for a Scotland Yard Inspector that helps - unbeknownst to him - him solve his cases. The 'romance' (which was completely unneeded) started getting draggy and soap opera-y in the last few that I read though, which was partially why I quit.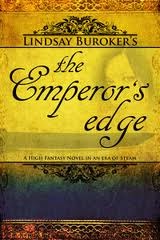 Lindsay Buroker
Books Owned: 15
First Book Read: The Emperor's Edge
(I'm using the profile pic from Goodread. Yes, this is hers.)
I love her books so much! They are fantasy books that hit all the right notes for me and I just adore this series. They're fun and awesome and have action and witty dialogue - and one of the best groups ever in a fantasy book!
Emily Baker Loring
Books Owned: 14
First Book Read: I honestly can't remember. We'll go with I Hear Adventure Calling
I got all of these free when I helped a friend close up her bookstore. It was basically, whatever you don't want will be donated/thrown out or something. These books are fun romantic fluff.
R.A. Salvatore
Books Owned: 14
First Book Read: Homeland
Drizzt Do'Urden. (Even if he's not my favorite Salvatore character. Nope, that goes to Artemis Entreri and Jarlaxle.) Doubtlessly the best known dark elf ever, yes? I still have all these books on my shelf, but somewhere around the 8th Drizzt book I was starting to get burnout and I have yet to recover. (Besides, this series is a little too 'humans and Drizzt = good & all other races and Entreri = evil' for me.)
Elaine Cunningham
Books Owned: 10
First Book Read: Elfshadow
(You know, this is the first time I've ever seen a picture of her.) Anyway, this was one of the first two fantasy books I ever read. (I bought it and another one at the same time and actually cannot recall which one I read first, but this was the better of the two.) Even to this day I still love her writing. I totally need to reread this sometime and also finish off the rest of her series.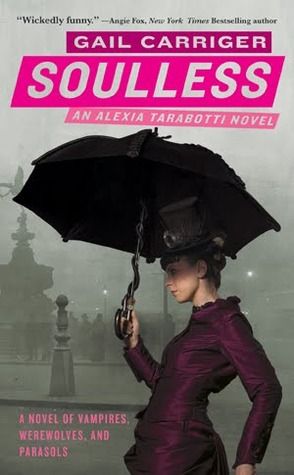 Gail Carriger
Books Owned: 9
First Book Read: Soulless
This author has really grown on me. If you'd talked to me two weeks after I read Soulless, I would have said 'too much romance for me'. I can't help it, I was going through a phase in my life where I was being very cynical. And this romance is not cynical. Each series of hers I love more than the last and the only complaint I have is that she doesn't write fast enough. ;)
Margaret Weis
Books Owned: 9
First Book Read: Dragons of Autumn Twilight
These books are all still actually on my shelf. I need to get them off because I doubt I'll ever reread them. Because I think I'd hate most of the characters (not to say that I actually liked all of them the first time around). Except for Raistlin. I have the strange suspicion that I will still like him. Possibly even more the second time around.
Paul B. Thompson
Books Owned: 8
First Book Read: Sanctuary
So, I had about four authors tied at 8 books. I went with the author that I'm still a fan of and whose books I still enjoy. I will say though that Sanctuary is certainly a book where distance really does make the heart grow fonder.
This was not easy. I'm letting whoever came up with this topic know that I am not amused. You see, I've borrowed a lot of books, so I have to try to figure out of the many, many books I've read, which ones I actually own. Goodreads isn't as helpful with this as they should be. I also find this very interesting that all except two of these authors are either mystery writers or write for D&D. The rest of my authors need to get writing and quit having things called 'lives'. (JK JK, I wouldn't be a slavedriver, but with my favorite authors, one book a year seriously isn't enough.) And, much to my surprise, I've got more fantasy authors on here than I expected to.
You know the drill, links and I'll visit. Comments are love(ed). Can you beat 65 books owned by any one author? Am I crazy for having accumulated that many over fifteen years or so years?
(And, seriously, I could have sworn that this said 'own the most books of' instead of 'read the most books of'. But, I think I might have done it backwards last time too, so whatever.)