Top Ten Tuesday is an original feature/weekly meme created at The Broke and the Bookish.
I love fairy tale retellings, but I've not read a lot of them. And of those that I've read, some I've loved and others...not so much. So, this prompt was easy enough to change a bit that I decided to do five fairy tale retellings that I've read and loved and five that I want to read. (You'll possibly notice that the way I'm doing this is a bit different. That's because there's only so many ways I can say I love a book. You can check out my review on most of the ones I've read, though.)
Top Five Fairy Tale Retellings That I've Read
Cruel Beauty by Rosamund Hodge
Since birth, Nyx has been trained to defeat the Gentle Lord - a demon that ripped the land of Arcadia from the world nine hundred years ago. Since then the Gentle Lord has ruled over the people from his ruined tower, making cruel deals and bargains and loosing his demons on the unsuspecting. Nyx's duty is to destroy him, even if it costs her her life.
But when Nyx is wedded to Ignifex and taken inside his castle, neither him nor his house was at all what she expected. Can a girl taught to hate learn to love? Or is it already too late for both of them?
My review. (Love this book so much.)
A Wicked Thing by Rhiannon Thomas
One hundred years after falling asleep, Princess Aurora wakes up to the kiss of a handsome prince and a broken kingdom that has been dreaming of her return. All the books say that she should be living happily ever after. But as Aurora understands all too well, the truth is nothing like the fairy tale.
Her family is long dead. Her "true love" is a kind stranger. And her whole life has been planned out by political foes while she slept.
My review. (Same as above: Love this book so much. Would have a terrible time deciding which I like more.)
Cress by Marissa Meyer
In this third book in the Lunar Chronicles, Cinder and Captain Thorne are fugitives on the run, now with Scarlet and Wolf in tow. Together, they're plotting to overthrow Queen Levana and her army.
Their best hope lies with Cress, a girl imprisoned on a satellite since childhood who's only ever had her netscreens as company. All that screen time has made Cress an excellent hacker. Unfortunately, she's just received orders from Levana to track down Cinder and her handsome accomplice.
My Review. (This series just keeps getting better and better and this is without a doubt my favorite so far.)
The Isle of the Lost by Melissa de la Cruz
Twenty years ago, all the evil villains were banished from the kingdom of Auradon and made to live in virtual imprisonment on the Isle of the Lost. The island is surrounded by a magical force field that keeps the villains and their descendants safely locked up and away from the mainland. Life on the island is dark and dreary. It is a dirty, decrepit place that's been left to rot and forgotten by the world.
But hidden in the mysterious Forbidden Fortress is a dragon's eye: the key to true darkness and the villains' only hope of escape. Only the cleverest, evilest, nastiest little villain can find it...who will it be?
Check back tomorrow for my review! (I really love this book. It's just so much fun.)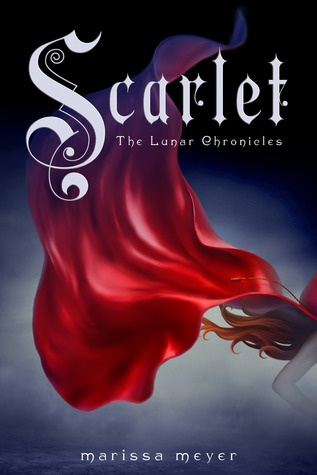 Scarlet by Marissa Meyer
Cinder, the cyborg mechanic, returns in the second thrilling installment of the bestselling Lunar Chronicles. She's trying to break out of prison--even though if she succeeds, she'll be the Commonwealth's most wanted fugitive.
Halfway around the world, Scarlet Benoit's grandmother is missing. It turns out there are many things Scarlet doesn't know about her grandmother or the grave danger she has lived in her whole life. When Scarlet encounters Wolf, a street fighter who may have information as to her grandmother's whereabouts, she is loath to trust this stranger, but is inexplicably drawn to him, and he to her. As Scarlet and Wolf unravel one mystery, they encounter another when they meet Cinder. Now, all of them must stay one step ahead of the vicious Lunar Queen Levana, who will do anything for the handsome Prince Kai to become her husband, her king, her prisoner.
My review. (So, it's been so long that I forgot I even had a review for this book.
Cinder was meh, but this book was great! And that's the reason I didn't put the whole of The Lunar Chronicles together.)
Five Fairy Tale Retelling That I Want To Read
Kill Me Softly by Sarah Cross
In Beau Rivage, nothing is what it seems—the strangely pale girl with a morbid interest in apples, the obnoxious playboy who's a beast to everyone he meets, and the chivalrous guy who has a thing for damsels in distress. Here, fairy tales come to life, curses are awakened, and ancient stories are played out again and again.
I can't be the only one that thinks this sounds like Once Upon A Time. Anyhow, this book sounds good - it's just the less than stellar reviews that's holding me back.
A Tale of Red Riding Hood: Rise of the Werewolf Huntress by Neo Edmund
Red Riding Hood will not only have to face dangerous wolves; she will have to face the wolf within herself. Gifted and cursed with the ability to transform into a powerful werewolf, she will rise to become a legendary warrior known as The Alpha Hunter… She will join forces with bad-boy, Wolfgang Helheim, and a circle of her best friends who have mystical powers of their own. Together they will wage a supernatural war to protect Wayward from malevolent werewolves, witches and many other dangerous creatures, all the while resisting the temptation of stumbling down a path of darkness. Only through this can Red hope to save Wayward and the world from falling under the control of those who seek to bring chaos, thrust the world into eternal night, and allow malevolent werewolves to overrun the Earth.
I know it's not original to make the Big Bad Wolf a werewolf and Red a hunter - but that doesn't mean it's not awesome and we don't need more books like that.
Gathering Frost by Kaitlyn Davis
Jade was only a little girl when the earthquake struck. Before her eyes, half of New York City disappeared, replaced by a village that seemed torn out of a storybook. Horses and carriages. Cobblestone streets. A towering castle. And, above all, a queen with the magical ability to strip emotions away.
Ten years later and Jade has forgotten what it is to feel, to care...even to love. Working as a member of the queen's guard, she spends most of her time on the city wall staring at the crumbling skyscrapers of old New York. But everything changes when the queen's runaway son, Prince Asher, returns. Jade is tasked with an unusual mission--to let the Prince capture her, to make him trust her, and then to betray his secrets to the crown. In return, she'll earn her freedom. But life outside the queen's realm is more than Jade bargained for. Under Asher's relentless taunts, her blood begins to boil. Under his piercing gaze, her heart begins to flutter. And the more her icy soul begins to thaw, the more Jade comes to question everything she's ever known--and, more importantly, whose side she's really on.
Seriously, if you've read that synopsis, I don't need to explain why I want to read it.
Sun and Moon, Ice and Snow by Jessica Day George
Blessed--or cursed--with an ability to understand animals, the Lass (as she's known to her family) has always been an oddball. And when an isbjorn (polar bear) seeks her out, and promises that her family will become rich if only the Lass will accompany him to his castle, she doesn't hesitate. But the bear is not what he seems, nor is his castle, which is made of ice and inhabited by a silent staff of servants. Only a grueling journey on the backs of the four winds will reveal the truth: the bear is really a prince who's been enchanted by a troll queen, and the Lass must come up with a way to free him before he's forced to marry a troll princess.
So...I fail. I didn't even know who this book was by when I bought it. I guess that makes my ruminating on which George book I'd read first a moot point.
Winter by Marissa Meyer
Princess Winter is admired by the Lunar people for her grace and kindness, and despite the scars that mar her face, her beauty is said to be even more breathtaking than that of her stepmother, Queen Levana.
Winter despises her stepmother, and knows Levana won't approve of her feelings for her childhood friend–the handsome palace guard, Jacin. But Winter isn't as weak as Levana believes her to be and she's been undermining her stepmother's wishes for years. Together with the cyborg mechanic, Cinder, and her allies, Winter might even have the power to launch a revolution and win a war that's been raging for far too long.
I'm totally cheating here because, honestly, who doesn't want to read this book. (And it's not even been released yet, but still.)
Not enough fairy tale retellings that I want to read? Check out this list of five more that I posted back during Fairy Tale Fortnight of which (because I totally suck) I've not read any of.
I love comments and links to your TTT lists as well as suggestions as to which book I should read. And suggestions for other books to read as well.