taking place here
The girl with the crazy-long hair. Rapunzel. This has always been a fairytale that I looked at in askance - even before I started hearing some of the more mature themes that was in the original tale. When I was a youngster, I was left going 'really? Her neck is strong enough that a guy can climb up her hair?' Yeah... Anyway, it's really interesting how few retellings of this story there are - and how most of them are MG. Now, I'm not saying I don't read my share of middle grade books, but most of the time they're just a bit too...young for me. (And now I feel old.) So it wasn't the easiest thing in the world to find some Rapunzel Retellings that weren't all MG.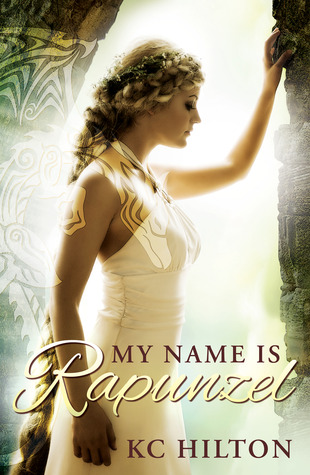 My tale has been told again and again, and I've heard each one. Except for my hair, I barely recognize the pitiful renditions. Muddled versions, crafted to entertain laughing children…but the children wouldn't have laughed if they'd known the real story. It wasn't their fault. They didn't know the truth. Nobody did.
My name is Rapunzel. I will tell you my story. I will tell you the truth.
Once upon a time, in a land you only think you know, lived a little girl and her mother . . . or the woman she thought was her mother.
Every day, when the little girl played in her pretty garden, she grew more curious about what lay on the other side of the garden wall . . . a rather enormous garden wall.
And every year, as she grew older, things seemed weirder and weirder, until the day she finally climbed to the top of the wall and looked over into the mines and desert beyond.
Growing Amaranth is a more serious take on the tale, and examines the effects of emotional abuse.
Deep in the heart of Sienna, the town of Autumn is bustling as the harvest season approaches, but young Amaranth knows nothing of this, since she has never been outside of her mother's walled-in cottage. It isn't until a child named William sneaks into her garden that she learns boys exist. As she awakens to the knowledge of an outside world, her mother Myrtle's jealousy is aroused. As Myrtle strives to keep Amaranth from discovering the secret to her captivity, Amaranth struggles with her growing feelings for William and the urge to leave the only home she has ever known. Before Amaranth finds the answers to her mounting curiosity, William vanishes, and she finds herself at the mercy of her mother's wrath. With nothing to rely on except her limited knowledge and the hope that she will finally be united with the life she has always been denied, she realizes the only thing in her way is Myrtle, who will stop at nothing to keep her hidden -- not even murder.
Seventeen-year-old Anya leads a very secluded life in a house on the edge of town with her adopted mother. She doesn't go to school, but instead has a private tutor. Her over-protective mom keeps her so sheltered that she doesn't even have a best friend.
But Anya doesn't seem to mind. She has her books, her photography, and her daydreams, and would do anything to please her mom. Until one day at the library, the only place she's allowed to go, she takes a picture of a beautiful boy.
After Margherita's father steals parsley from the walled garden of the courtesan Selena Leonelli, he is threatened with having both hands cut off, unless he and his wife relinquish their precious little girl. Selena is the famous red-haired muse of the artist Tiziano, first painted by him in 1512 and still inspiring him at the time of his death. She is at the center of Renaissance life in Venice, a world of beauty and danger, seduction and betrayal, love and superstition.
Locked away in a tower, Margherita sings in the hope that someone will hear her. One day, a young man does.
Rapunzel is not your average teenager.
For one thing, she has a serious illness that keeps her inside the mysterious Gothel Mansion. And for another, her hair is 15 feet long. Not to mention that she's also the key to ultimately saving the world from certain destruction. But then she meets a boy named Fane, who changes all she has ever known, and she decides to risk everything familiar to find out who she really is.
And this is where we stop because I didn't realize there was so much erotica and/or romance for this tale. Seriously, I think it's got more of those stories than any other fairytale I've looked up. (Except, maybe, Beauty and the Beast.)
I've not read any of these - I totally need to read more retellings - but there are a couple here that sound so good that I think I'll have to give them a go. Have you read any of them? Do you want to?