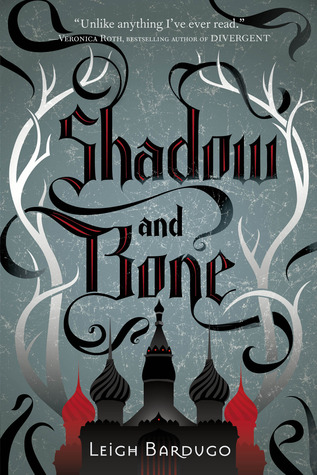 Shadow and Bone by Leigh Bardugo
Series: The Grisha
Genre: Fantasy
Add on Goodreads
Surrounded by enemies, the once-great nation of Ravka has been torn in two by the Shadow Fold, a swath of near impenetrable darkness crawling with monsters who feast on human flesh. Now its fate may rest on the shoulders of one lonely refugee.

Alina Starkov has never been good at anything. But when her regiment is attacked on the Fold and her best friend is brutally injured, Alina reveals a dormant power that saves his life—a power that could be the key to setting her war-ravaged country free. Wrenched from everything she knows, Alina is whisked away to the royal court to be trained as a member of the Grisha, the magical elite led by the mysterious Darkling.

Yet nothing in this lavish world is what it seems. With darkness looming and an entire kingdom depending on her untamed power, Alina will have to confront the secrets of the Grisha . . . and the secrets of her heart.
I've said before that I don't like those fantasy books that drag a peasant girl (and it's always a girl, never a boy) to the royal court. I also don't like stories that have a main character with this mysterious power that they never knew they had. I also don't like fantasy books told in the first person perspective.
Well, this book has all three. Which is why I borrowed it from my library (something I never do) instead of just buying it - because I really didn't think I'd like it.
…
I did.
Yeah, it has things I don't like in my stories, but it has awesome people and - surprisingly enough - a main character whose head I genuinely like being in.
Alina is pretty much what I want the character to be when they're called 'spirited and spunky'. Sadly, those words are usually synonymous with 'shrew and bitchy'. Alina is stubborn, she often speaks before thinking and I love her for it. She's a very determined girl and even though she has moments of weakness, I truly like her.
The Darkling is…not what I expected. He's not what I expected before reading the book and certainly not what I expected after meeting him. I like him though - but then again, I always like guys like him. (You know, the guys that might be a little evil. Seriously though, I love the fact that he's a viable love interest and … well, the fact that I still am not sure if he's a good guy wearing villain clothes - or a bad guy wearing hero clothes.)
Then there's Genya, Alina's closest friend at the palace. Honestly, I was so happy to see that she made a girl friend. Lately it seems like all I've been reading are books with girls that have no close girl friends - and sometimes, don't even like other women. (The Storyspinner and The Sin Eater's Daughter, I'm looking at you.) I adore Genya. She's pretty and she's confident even while she's a little lost and she's the kind of best friend I'd love to have.
I liked most of the other characters - especially, for some reason, Fedyor but also Baghra and Botkin. Really, the only person I didn't like was Mal. He annoyed me and I thought he was a bit of a … worthless slug. Yeah, that's a good descriptor for him. (Sorry, but I was never able to shake my first impression of him and I got the feeling that he didn't want to give his best friend the time of day until she got pretty.)
I will say, there were several stupid decisions made, mostly Alina's, that made things much more difficult than they needed to be. Honestly, I'm not sure if that makes me like the book more or less.
I do rather like the world. It's different than most usual fantasy worlds, but no so different that it's unbelievable. It's based on Russia and I do rather like seeing a different fantasy setting.
So, even though I like this book enough to be interested in reading the rest, I did a little research on something that I don't think I could get over and it turns out that my worst fears were confirmed. This is something that is kind of a deal breaker for me, so I probably won't read any more of this series.