taking place here
Today I get to talk about rereading Scarlet by Marissa Meyer which is book two in The Lunar Chronicles. If you like to see my talk on Cinder, click here. And you can find my Cinder Talk from last month here. As usual, figure on there being spoilers here, for both Scarlet and for Cinder, so don't say I didn't warn you! If you'd like to see my original, spoiler-free, review of Scarlet, click here.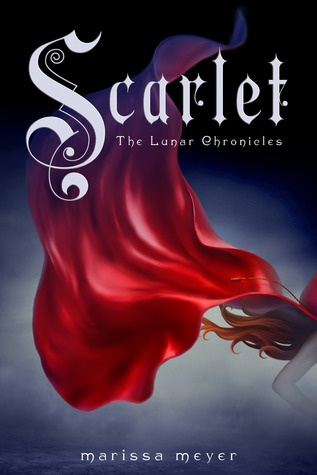 I feel very incoherent. I remember how much this book improved the series for me the first time around and now… Now I actually raised my Goodreads rating of this book from four stars to five. This book is borderline perfect for me and while comparing it to Cinder, I can't believe what a huge jump it makes.
First and for me, definitely most important, are Scarlet and Wolf. Honestly, I pretty much loved Scarlet the first time around and I liked her even more the second. This girl is just so awesome and I adore pretty much everything about her. I'm very curious to find out if she'll stay my favorite. (Seeing if Cress and Winter give her real competition, in other words.)
And Wolf is such an interesting character. I remember writing in my review of this book that he definitely has some of the 'big bad wolf' traits, but he's also such a vulnerable character. For me it's really interesting how both sides mesh in his personality.
I'll be honest, as much as I like Cinder and Kai separately, I love Scarlet and Wolf as a couple. Yeah, the book takes place in so little time, but (unlike the Cinder/Kai romance) I really felt that these two have real chemistry.
That's a big issue I have with this book: I can't help but to compare it to Cinder - and I love everything in this book more than Cinder. The characters, the plot, even the world building seems more overarching than in Cinder.
I love how Cinder and Scarlet's story connects and how I really don't have to stay with Cinder long enough to get bored with her (unlike the first book). Also, it seems really interesting to me how this book seems even further removed from the original fairytale than Cinder was.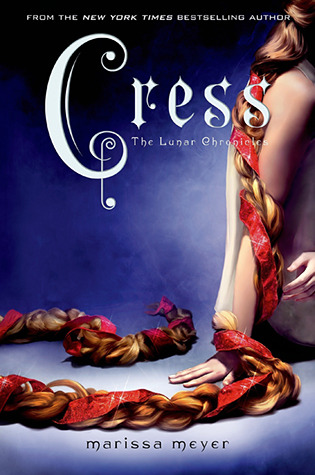 I'm very excited for next month to get here so I can reread Cress. The only problem is that if it improves as much for me as the first two books did, I don't have a sixth star to give it!
I'm also super excited because I love Cress herself and Thorne is without a doubt my favorite of the guys. (And, against all odds, the storyline totally doesn't upset me.)