Top Ten Tuesday is an original feature/weekly meme created at The Broke and the Bookish.
This week's a 'freebie' week over at The Broke and The Bookish, so I got to give some thought to what I wanted to do. Originally it was supposed to be my bookish crushes, but then I realized that I really don't have ten. (Probably, if I'm being fair, not even five.) I don't come up with my own topics for these posts (though I have a few, very nebulous, ideas…) so I started looking through the backlog at their website. Just scanning through the list, I found one that immediately caught my eye. I love friendships in books so, even though this can also be couples, it'll probably be mostly friends. (I'd also like to note that none of these images are mine. I'm just spreading them around to share the love. <3)
Top Ten Dynamic Duos In Books
Sherlock Holmes & John Watson
The Complete Sherlock Holmes by Arthur Conan Doyle
You can take the original novels, or any of the (newish, anyhow) TV and film remakes - I have always adored their friendship. I'm also quite partial to Elementary that has a Joan Watson. :) (Also love the old series with Ronald Howard and H. Marion Crawford.)
Hadrian Blackwater & Royce Melborn
The Riyria Revelations (and The Riyria Chronicles) by Michael J. Sullivan
Probably my favorite 'dynamic duo' ever. These two guys are very different and yet they work together so perfectly. What I think is especially awesome is the way, over time, that each guy rubs off on the other a little.
Prudence Akeldama & Primrose Hisselpenny
The Custard Protocol series by Gail Carriger
One of my favorite things about Gail Carriger's books is how the leading lady always has a best friend. Well, these two are quite a pair, let me tell you. They're both always ready for adventure - even while Prim does her best to keep Rue in the proper garments! (And, in truth, is a little less adventurous. Re: More sensible.)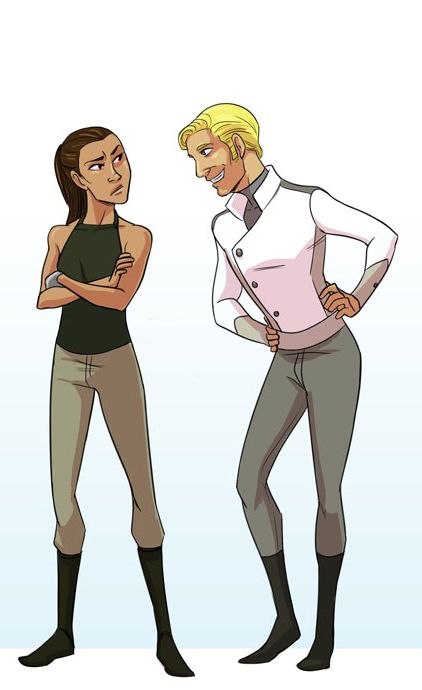 Linh Cinder & Carswell Thorne
The Lunar Chronicles by Marissa Meyer
So, I could have totally chosen on of the romance-y couples, but instead I had to go with another one of those total-opposites-friendships. I love their interactions so much and they are really good for each other. (Even better, there's not one point where I thought they 'could' have been a couple.)
Will Herondale & Jem Carstairs
The Infernal Devices trilogy by Cassandra Clare
Sure, sure, I could add Tessa to the duo, and, in truth, probably should. But I adore the friendship these two have and their past together.
Amaranthe Lockdon & Sicarius
The Emperor's Edge series by Lindsay Buroker
A couple! Seriously though, beyond that, this is another opposites attract setup - they just attract a bit more than anyone else on my list so far. (I could also talk about the opposites attracting friendship between Maldynado and Books.)
Aerin Renning & Dane Madousin
Academy 7 by Anne Osterlund
An awesome friendship that turns into romance. These two characters need each other and it was so wonderful watching them slowly come to care for each other and let the other person in.
Rose Hathaway & Lissa Dragomir
Vampire Academy series by Richelle Mead
Even if I've only read the first book, the friendship between these two really spoke to me. The love each other, would probably do anything for each other, but they still get under each other's skin. That's got to be one of the most realistic friendships I've come across.
Ramses Emerson & David Todros
Amelia Peabody Mysteries by Elizabeth Peters
Best friends, partners in crime (sometimes literally as well as partners in crime-solving). They aren't brothers, but they are closer than - and eventually do become family by marriage. Much like Prim is to Rue, David is Ramses voice of reason. (Least, most of the time.)
Arilyn Moonblade & Danilo Thann
Songs & Swords series by Elaine Cunningham
They start off antagonistic to each other - rather, him always getting under her skin - become friends then romantic interests for each other. All the while he still gets under her skin. But I seriously love these two!
There we have my post for this freebie week on ten dynamic duos in books. I had a lot of fun putting this together and am so excited to check out everyone else's posts. These weeks always have such unique topics!